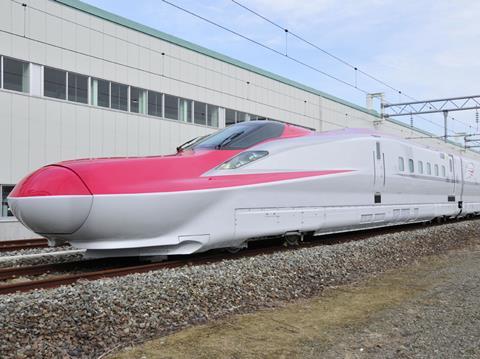 JAPAN: The first of 23 production Series E6 trainsets being supplied to East Japan Railway for Akita mini-Shinkansen services was officially unveiled at the railway's Sendai rolling stock maintenance depot on November 22, where the trains were officially designated Super Komachi.
Due for delivery between November 2012 and the spring of 2014, the seven-car small-profile sets follow on from a pre-production Series E6 trainset supplied by Hitachi and Kawasaki in June 2010, which in turn was derived from the Fastech 360Z prototype. The first trains will enter service in March 2013, on four tips each way per day, replacing the older Series E3 sets now operating Komachi services between Tokyo, Morioka and Akita.
Each set has five motor cars and two trailers. A distinctive feature of the new units is the 13 m long nose, designed to reduce noise and aerodynamic pressure pulses when running through tunnels at up to 320 km/h. This limits the seating capacity to 338, which is the same as the six-car E3s, including 23 Green Car seats in one driving vehicle.
The Super Komachi trains are also equipped with active suspensions giving a limited degree of tilt to improve ride quality. Improved provision for mobility impaired passengers includes wheelchair accessible toilets, and there is on-board CCTV.
The Series E6 sets will operate in multiple with Series E5 trainsets between Tokyo and Morioka, initially running at 300 km/h on the Tohoku Shinkansen. Once all of the production units have entered service and the E3s have been phased out, JR East intends to increase the maximum speed to 320 km/h in March 2014, cutting end-to-end journey times by between 10 and 15 min. Maximum speed on the converted narrow-gauge line between Morioka and Akita will be 130km/h.