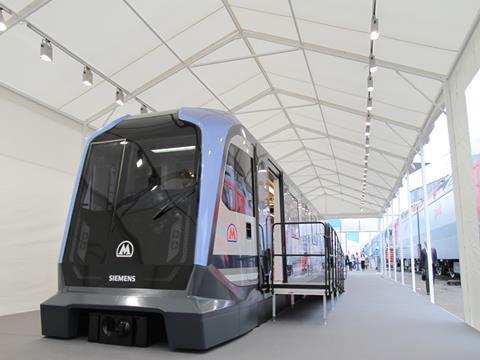 RUSSIA: Siemens and local partner Russian Machines confirmed their intention to tender jointly to supply metro cars for Moscow by unveiling a mock-up of their proposed design at the Expo 1520 event being held at Shcherbinka on September 11.
Moscow Metro is expected to call tenders for the supply of up to 3 000 metro cars by the end of this year for delivery by 2020. Siemens and Russian Machines have developed a design with a strong focus on energy efficiency and passenger capacity; Siemens also expects the new fleet to offer substantial maintenance cost savings over existing designs.
'We are looking forward to teaming up with one of the most respected machine-building companies in Russia', said Jochen Eickholt, Chief Executive of Siemens Rail Systems. 'We are contributing extensive know-how in the field of modern rail vehicles, already proven with the Sapsan, Lastochka and sleeping car products for RZD.'
Russian Machines is a subsidiary of Basic Element Group, a major supplier of components and equipment for the rail, automotive, aviation and heavy industrial sectors.