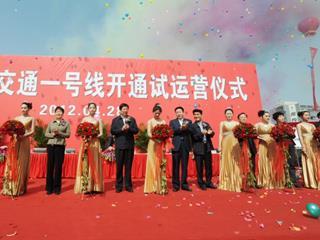 CHINA: The first metro line in Suzhou opened on April 28, with a ribbon-cutting ceremony and simultaneous departures from the Zhongnan Jie and Mudu termini at 11.18.
Suzhou Rail Transit Co's Line 1 runs 25·7 km from east to west with 24 stations. Systra undertook planning work, Siemens and Nanjing Research Institute of Electronic Technology supplied CBTC signalling, the rolling stock was manufactured by CSR and rail grinding machinery by Harsco.
Work is underway on the 26·6 km north-south Line 2, which is scheduled to open in 2014. This will link the city's North station with Yingchunnanlu in Wuzhong Economic Development Zone. There will be 17 underground and five surface stations, with an interchange with Line 1 at Guanjinan Road. The Nanjing SR Puzhen Rail Transport joint venture is to deliver 23 five-car Type B2 trainsets from May 2013.
Two further metro lines are included in the the city's transport master plan.