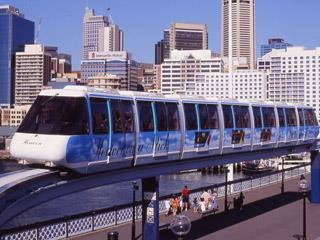 AUSTRALIA: The New South Wales government announced on March 23 that it had paid A$19·8m to acquire light rail and monorail owner Metro Transport Sydney, clearing the way for the monorail to be removed to accommodate the new Sydney International Convention Exhibition & Entertainment Precinct. The deal will also simplify contractual arrangements for planned expansion of the city's light rail network.
'The NSW government is committed to expanding light rail and extending the Inner West Light Rail to Dulwich Hill', said Minister for Transport Gladys Berejiklian. A strategic plan examining the feasibility of light rail extensions through the CBD and to the universities of Sydney and New South Wales is to be completed in the middle of this year, and buying MTS 'gives certainty to transport planners and will ensure light rail is fully integrated with the wider public transport network.'
State Premier Barry O'Farrell said the 3·6 km monorail loop had 'never been truly embraced by the community' since opening in 1988; 54% of its 3 million riders a year are visitors to the city. Now it is reaching the end of its economic life, and the government 'cannot justify costly upgrades like the purchase of new vehicles required to keep it running.'
Veolia retains its light rail and monorail operating contract with MTS, but the monorail will be removed 'as soon as feasible after obtaining the necessary approvals and consulting with stakeholders'.
MTS said the end of the monorail was' very disappointing', but the commitment to redeveloping the Darling Harbour area was 'exciting'.