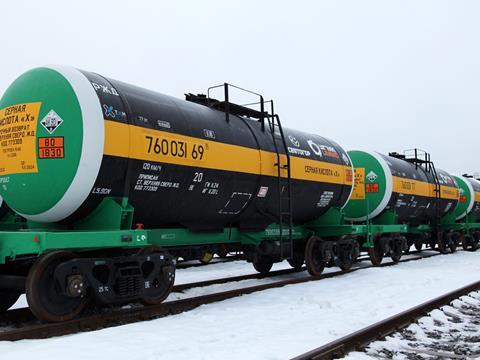 RUSSIA: United Wagon Co's TikhvinChemMash subsidiary has won a contract to supply Ural Mining & Metallurgical Co with 24 sulphuric acid tank wagons for use at its Sredneuralsk and Svyatogor copper production facilities.
The wagons will have 25 tonne axleload bogies permitting a payload of 77 tonnes, a 10% increase on older wagon designs, while the sloping tank will increase drainage.
An initial batch of Type 15-9545 wagons had been supplied to Sredneuralsk Copper Smelter at the end of 2015, and experience operating these in real-world conditions has enabled the latest batch of wagon to be tailored to the customer's specific needs.
'When choosing rolling stock, failure-free operation and high efficiency play a crucial role,' said Alexey Kukushkin, Deputy Director, Commercial & Financial, at Sredneuralsk Copper Smelter. 'UWC tank cars meet our requirements in terms of these indicators.'