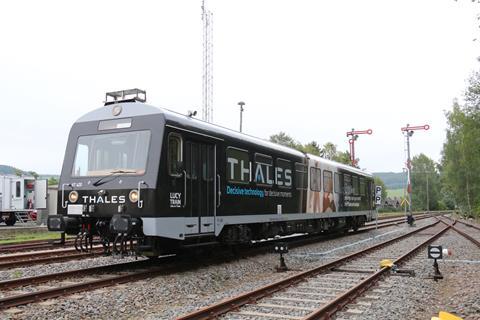 GERMANY: A test train with no driver on board has been remotely controlled using equipment based on 5G technology.
The test train ran for the first time on September 17 on a section of the 25 km Erzgebirgische Aussichtsbahn between Annaberg-Buchholz and Schwarzenberg in Sachsen. It consisted of railcar 'Lucy', fitted out by Thales as a rolling laboratory, and was operated using a 5G network provided by Vodafone which offers a bandwidth of more than 500 megabit/sec. The driver was sitting in a nearby building and controlling the train from a driver's desk with the help of two screens showing images transmitted from the train with a delay of less than 10 milliseconds.
Vodafone has built one of Germany's first 5G stations on the site and uses a technique known as Network Slicing which involves different virtual networks sharing a physical network structure; a separate 5G network is used for the test area. The arrangement ensures that optimal mobile radio capacity is always available to control the train in the test area, even when multiple users are surfing in the vicinity. Data are processed in a 'mobile edge cloud' located directly adjacent to the mobile radio station.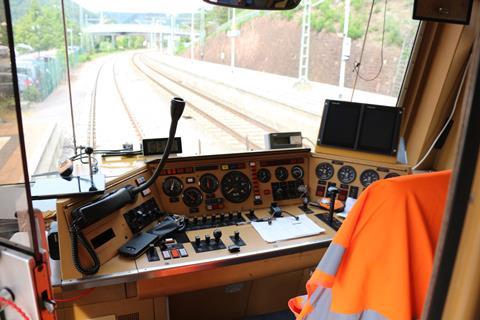 'We are putting 5G on the tracks for the first time, and with our industry partners we are investigating new applications for 5G', said Alexander Saul, Managing Director of Vodafone Business in Germany. 'If the network is functioning in real time, this means that in future a home office for train drivers could be a reality'. The company envisages that the technology could eventually be used to control freight trains.
Dr Yves Joannic, Managing Director of Thales Deutschland, said that 'this next generation of mobile radio technology will form the basis for the digital transformation of B2B and will become the backbone in the widest sense of industrial operations, from which the railway sector in particular will benefit'.
The project has been put together by the Smart Rail Connectivity-Campus, a consortium of companies and organisations led by the city of Annaberg-Buchholz and the Technical University of Chemnitz, with funding from the federal government's 'Change through Innovation' WIR! regional development programme. The Campus is able to use the Annaberg-Buchholz – Schwarzenberg line for its research and test work; built originally to carry iron ore, the preserved line is open at weekends for tourist services.
Thales is co-operating on the 5G train control project with the DLR aerospace research centre and Railenergy.