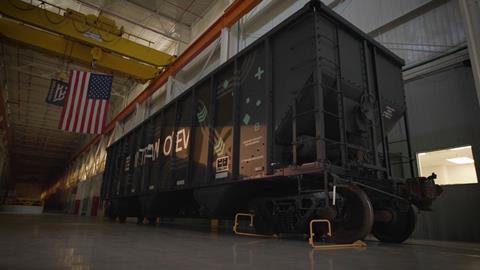 USA: Intramotev has been awarded funding for the first commercial use of its TugVolt concept for an autonomous battery-electric wagon.
Michigan's Office of Future Mobility & Electrification has awarded a $200 000 grant for the deployment at a mining site in the state's Upper Peninsula in late 2023.
'Utilising the most advanced battery-electric technology and other proprietary tools, we look to apply the packetisation of the internet model to freight logistics', said Intramotev co-founder and CEO Timothy Luchini on May 11.
The company is developing autonomous vehicles which it envisages could be used to haul conventional wagons, with automated or remotely controlled shunting on arrival.
It expects the first applications to be on captive routes between mines and processing facilities, and within industrial sites and ports. It then hopes to see deployment on main line rail networks.
'We envision a future where freight can move itself without waiting for a locomotive, making the system more efficient and environmentally friendly', said Luchini.