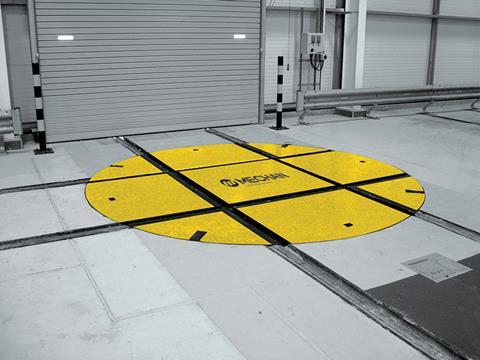 TURNTABLE: Depot equipment specialist Mechan has revised the design of its bogie turntables, following 18 months of research into ways of overcoming common problems with pit construction.
'As turntable pits need to be round, they are difficult to cast and don't always end up level', explains service engineer David Blagg. 'This made installing our previous equipment very time consuming, as it had wheels attached to a separate frame that was fitted after the table itself.'
The new design has integrated wheels fixed to the bottom of the structure, allowing the height of the table to be adjusted to counteract any discrepancies in the level of the pit, resulting in time and cost savings.
'On the face of it, our new turntables look much the same as the old ones. However, the changes we have made ensure they are not only quicker to install, but also easier to use', said Blagg. 'This means we can now offer manual versions with a higher capacity than before, again saving some users the expense of adding power.'