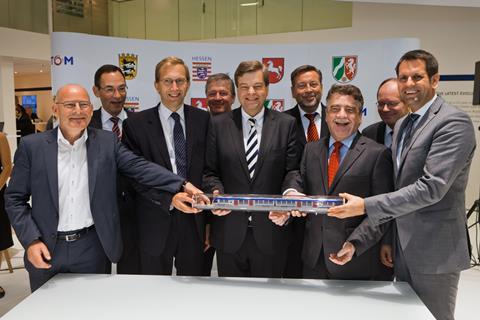 GERMANY: Alstom Transport hopes to have 40 fuel cell-powered regional trains in commercial service on regional lines in Germany by 2020 under an accord signed at the InnoTrans trade show in Berlin on September 24.
Under the letters of intent signed between Alstom, the Länder of Niedersachsen, Nordrhein-Westfalen and Baden-Württemberg and the transport authority of Hessen, two prototype trains are to be developed by the end of 2018 for revenue service trials using modified Coradia Lint multiple-units. The powertrain will use hydrogen fuel cells, batteries and energy storage systems to replace a roof-mounted diesel powerpack, giving equivalent performance to an electric multiple-unit. While the fuel cells will feature 'proven technology' already deployed in the automotive sector, Alstom will provide the software, control and energy storage equipment. Citing commercial confidentiality, the company would not be drawn on the type of battery and energy storage tools to be adopted.
The fuel cell project is being led by Alstom's Salzgitter plant, with support from the company's traction facility at Tarbes and Germany's DLR transport research body. The German federal government is providing financial assistance as part of its grant funding for sustainable transport projects. Alstom claims the trains would be 'completely emission free', noting that even electric trains can have a carbon footprint based on the fuel used for power generation. The Länder also see vehicle noise reduction as a priority on regional railways.