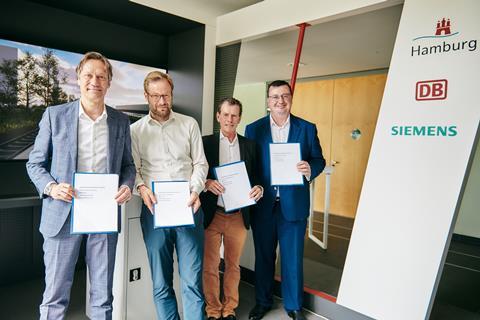 GERMANY: As part of the Digitale S-Bahn Hamburg programme, the city of Hamburg, Deutsche Bahn and Siemens Mobility are to trial an intelligent operations control system aimed at making operations more energy efficient.
Signing a co-operation accord on July 18, the three partners agreed to invest €35m in the Digitale S-Bahn Hamburg 2.0 initiative. This will see the intelligent control system trialled until 2025, when Hamburg will be hosting the next UITP global public transport summit.
Under the first phase of the Digitale S-Bahn Hamburg programme, four ATO-fitted Class 474 EMUs have been operating to Grade of Automation 2 on a 23 km section of route S21 between Berliner Tor and Aumühle since October 2021. This line has been equipped with ETCS Level 2, controlled from a radio block centre at Bergedorf.
A further 64 trains currently on order to refresh the S-Bahn fleet will be fitted with ATO from new, and Hamburg's Senator for Transport & Mobility Transition Dr Anjes Tjarks anticipates that the central part of the network will be operating automatically by 2030.
The control technology is expected to save energy in two ways. The first is to optimise operations and minimise unnecessary braking and acceleration by tracking the exact position of all trains in the network and adjusting the ATO commands accordingly. The second is to reduce peak power consumption by preventing multiple trains from starting away from stations simultaneously.
In addition, the project team will investigate the potential for regenerating captured braking energy back into the public power grid through the provision of inverters in the traction substations.
'In addition to providing additional capacity and higher reliability, the technology has the potential to reduce energy consumption by up to 30%', explained Dr Kristian Weiland, Head of Development for DB's national Digitale Schiene Deutschland programme 'Considering the current energy demand of the Hamburg S-Bahn, we would save the energy consumption of 10 000 households per year in the Hanseatic city alone.'
'Together with our partners, we have shown that automated rail transport is possible in an open railway system', said Siemens Mobility CEO Michael Peter. 'With Digitale S-Bahn Hamburg 2.0, we are now taking the next step, developing and testing innovative functions for the highest energy efficiency. This is an important step towards reducing CO2 and operating costs, and it is part of the most significant technological change on the railway.'
'The future of mobility lies in digital transformation, enabling us to develop environmentally friendly and resource-efficient solutions for sustainable transportation systems', emphasised Tjarks. 'As the Hamburg S-Bahn has demonstrated, innovative technologies and intelligent systems can contribute to creating sustainable and efficient solutions. The automation and digitisation of trains are part of our joint agreement with the federal government to establish Hamburg as a model region for mobility nationwide.'