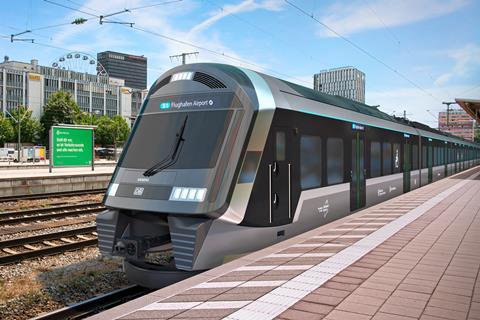 GERMANY: Siemens Mobility has been awarded a contract to supply 90 extra-long electric multiple-units which it says will provide 'more space, greater comfort and many innovations' on München S-Bahn services.
The 13-car EMUs will be 202 m long with 376 fixed and 80 folding seats and a capacity for 1 841 passengers in total. They are intended to help meet predicted growth in demand over the coming decades. The first unit is scheduled to enter service at the end of 2028.
The €2bn order announced by Bayern's Ministry of Housing, Building & Transport, operator Deutsche Bahn and Siemens Mobility on August 2 includes options for additional units.
'Germany's most modern S-Bahn trains will be an important component in our efforts to drive the mobility transition in the München region', explained Evelyn Palla, Deutsche Bahn management board member for Regional Transport. 'Each of the new XXL trains will replace 1 500 cars during rush hour. This is truly local transport of the future.'
'Reilable and future-proof'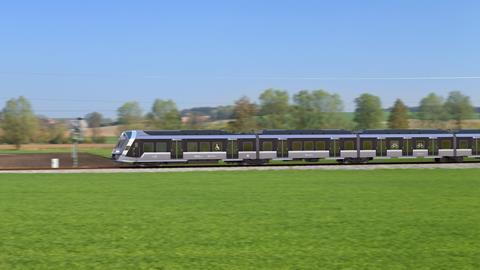 Siemens Mobility CEO Michael Peter said ''the most innovative S-Bahn trains in Germany' would provide 'unique digital functions, maximum passenger comfort, environmental protection and operational safety' with 'comfortable trains that are exceptionally reliable and future-proof'.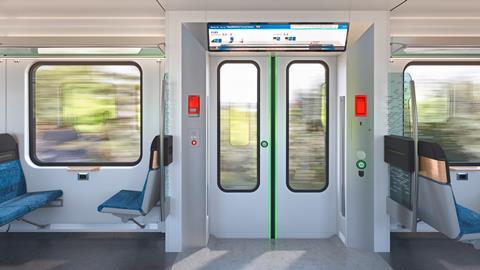 Each trainset will have 31 doorways per side, which at 1 400 mm will be 200 mm wider than those on the current fleet. There will be spacious entrance areas to facilitate rapid passenger flow and distribution. The seat pitch will provide 100 mm more legroom than the current fleet, with folding seats which can be automatically locked out of use to provide additional standing space.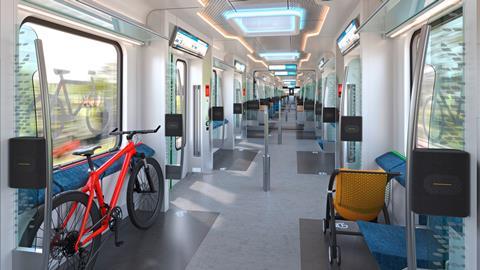 Five of the 13 cars will have three doors per side leading into large multi-purpose areas with space for bicycles, pushchairs and luggage.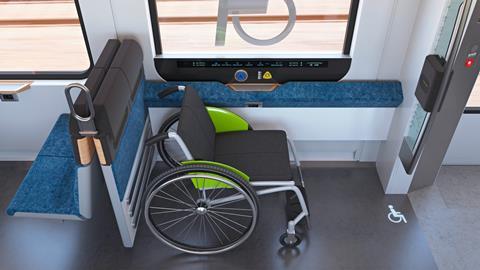 There will be dedicated areas for wheelchair users at each end of the train. These will have their own information displays, and the relevant doors will be equipped with sliding ramps to bridge the gap between train and platform.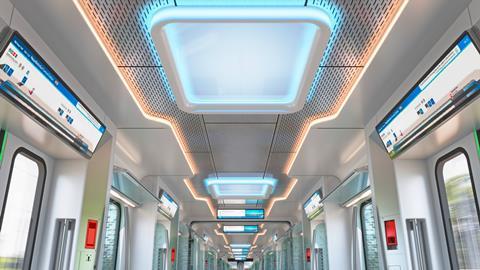 Interior features will include LED lighting that varies depending on the time of day, USB and power sockets, wi-fi and windows designed to offer good mobile phone reception.
External LED strips will display the colour of the S-Bahn route. The passenger information system will have 104 internal and 62 above-door external displays, providing real-time information about occupancy levels, while information about the location of station stairs and lifts will be visible from all seats. Passengers with hearing aids will be able to connect to the information system via Bluetooth.
Powerful air-conditioning will ensure a comfortable onboard environment in ambient temperatures ranging from -25°C to 45°C.
Designed for a maximum speed of 160 km/h, the 7·8 MW EMUs will be fitted with a traction package incorporating SiC semiconductors and an efficient transformer without oil as a coolant, in combination with intelligent control software. Lightweight construction and an aerodynamic design will also help to reduce energy requirements. There will be redundant components for reliability, with maintenance supported by Siemens Mobility's Railigent X platform and software updates transmitted via a secure online connection.
The trains will be equipped for automatic train operation using the ETCS which DB expects to deploy across the S-Bahn network from 2030.
Operations and financing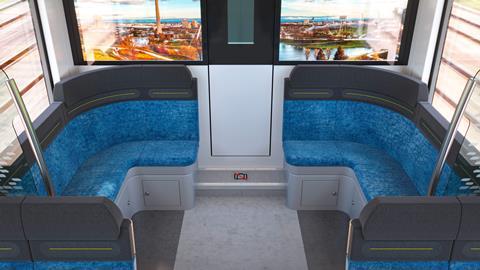 DB Regio is currently contracted to operate services totalling 1 million train-km/year on the 444 km München S-Bahn network under a 12-year contract awarded by Land railway agency BEG which began in December 2020. BEG retains the revenue risk and pays a fee to cover operating expenses plus performance based incentives.
Financing for the new fleet has been arranged by BEG, which selected lessor LHI Leasing based in Pullach and investors the European Investment Bank and UniCredit Bank. The Land offered favourable financing conditions with a capital service guarantee.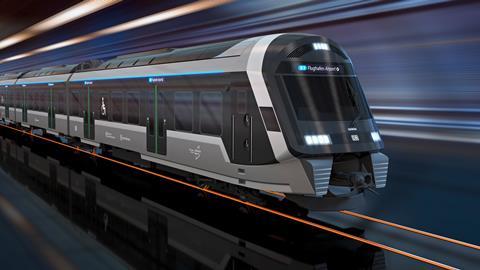 'As the person responsible for regional rail transport in Bayern, I can say that this investment is well worth the price', said Land Transport Minister Christian Bernreiter. 'After all, no less than two-thirds of all local rail passengers in Bayern will benefit from the trains, and virtually all local transport in the München region more-or-less depends on a well functioning and attractive S-Bahn.'