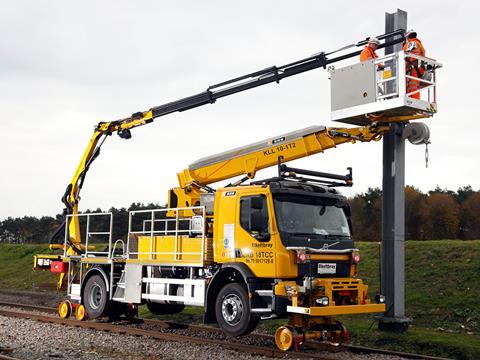 UK: Keltbray Aspire has worked with SRS Sjölanders to develop six mobile elevating work platform road-rail vehicles for use when installing overhead line electrification.
Kelbray said the machines acquired at cost of more than £3m are a 'UK first'. In addition to the 12 m reach, 500 kg mobile basket that can rotate 180˚, each MEWP is equipped with a crane that can lift up to 330 kg at a 12 m reach, eliminating the need for outriggers.
In the past, overhead line electrification installers would lift some small steelwork manually in conjunction with the mobile platform or by using additional machine for larger and heavier steelwork. The MWEP's crane eliminates manual handling from the installation process, and offers cost reductions by removing the need for a second lifting machine.
The vehicles can also transport installers, support staff and materials to site on the rear of the machine once on the track, offering transport greater efficiency while also reducing the risk of slips, trips and falls.
'The idea of adding the crane was developed when we became aware of the many unfortunate industry-wide incidents that involve trapped or crushed limbs', explains Head of Plant for Keltbray Electrification Plant, Dave Wright. 'The addition of the crane will remove this risk and makes the installation process safer, easy and more efficient.'