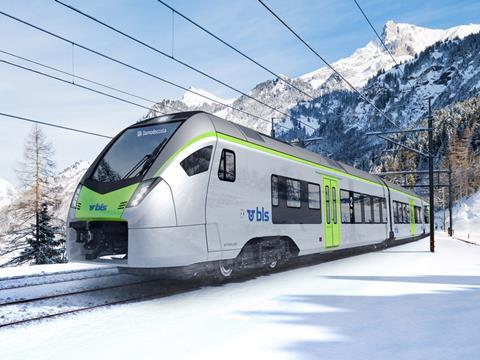 SWITZERLAND: Field tests and approval work is now underway ahead of the introduction of Stadler's first onboard train protection unit with BLS.
Stadler describes the development of the Guardia ETCS onboard unit as a 'key milestone' in its history. The Swiss company has previously focused on producing vehicles, but two years ago it made a strategic choice to expand into the signalling and train control market.
Its first series installation covers a fleet of 52 Flirt EMUs that Stadler is building for BLS under an order placed in January 2018. The first trainsets are due to be rolled out in mid-2019 and will enter service in 2021-25. These will be equipped for operation under ETCS Level 2.
Guardia has been developed by Stadler through the Angel Star joint venture with Italian supplier MerMec. It consists of both hardware and software installed onboard, and it allows the driver to visualise the train's position, speed and other operational data. This is also transmitted to the control centre by the onboard unit.
The process to gain approval for use of Guardia in Switzerland is now underway, and Stadler subsequently expects to launch the product in multiple European markets.
'We are delighted to be able to equip BLS trains with our automatic train protection system. To ensure the company's independence, it is important for Stadler to be able to offer its own signalling solutions', commented Alexandre Grêt, Head of Signalling. 'This is also a significant step forwards into the digital future for Stadler.'