Assessing the performance of its contractors Metronet and Tube Lines during the third year of the Public-Private Partnership, London Underground has highlighted some notable achievements in the maintenance and upgrading of infrastructure and rolling stock. But as major modernisation projects gather pace, LU is concerned that its network is still not performing in a stable and consistent manner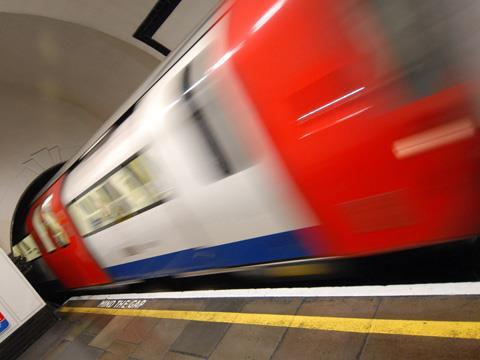 'WITHOUT QUESTION, 2005-06 was an extraordinary year for London and for London Underground', writes Managing Director Tim O'Toole in his forward to LU's third annual report on the PPP.
The terrorist attacks of July 7 2005 halted an upward trend in traffic which fell slightly from a record 976 million passenger-journeys in 2004-05 to 971 million in 2005-06. However, the subsequent recovery in demand was 'remarkable' and year-on-year growth was positive once more by September 2005.
Alongside the 'magnificent' response of LU's own staff, Metronet and Tube Lines were 'excellent' in dealing with the aftermath of the attacks according to O'Toole. 'Their support was immediate and absolute, and once the police returned control of the incident sites, they worked quickly to restore services for customers'.
At a more mundane level, 2005-06 was third year of the PPP, which has seen the private Metronet and Tube Lines consortia assume responsibility for maintaining and upgrading trains and infrastructure under 30-year contracts, taking over three Infracos created within LU for this purpose. O'Toole says 'there are indications that with the right focus from the Infracos, the contracts can deliver the step-change in asset condition that they set out to.' But he adds that the lack of consistency in Infraco performance 'is a source of great frustration', and expresses his concern that Metronet and Tube Lines 'failed to deliver' on the two key challenges he had set in them in LU's 2004-05 report.
'I think what we're doing is the right thing ... those who don't look in the round are missing the point'.
Terry Morgan
Infraco performance
LU describes the PPP contracts as 'among the largest and most complex private finance arrangements in the UK public sector'. They specify outputs in terms of availability, capability and ambience, and under an extensive performance regime bonuses and abatements (penalties) are applied to the Infrastructure Service Charge paid to an Infraco every four weeks. Service Points are also levied for failure to meet certain obligations such as ensuring that possessions for engineering work end on time and do not disrupt the start of service.
Regarding the contractual benchmarks as a minimum, LU expects performance to be 'significantly better', and in their bids Metronet and Tube Lines assumed performance above benchmark. In the case of availability, which measures service disruption in lost customer hours to reflect the duration, location, time of day and thus impact of any delay, contract benchmarks were set at 5% below historic LU performance but become more challenging in subsequent years.
In 2005-06 lost customer hours totalled 15·6 million, 11% worse than the 2004-05 figure of 14·1 million and including 1·8 million 'in abeyance' where the accountable party had yet to be determined by the year end on March 31 2006. Lost customer hours still to be attributed included those caused by the suspension of Northern Line services between October 12 and 15 2005 due to problems with the vehicle-mounted tripcocks that form part of LU's mechanical trainstop system.
Even excluding the tripcock failures, the Northern Line was one of the worst-performing lines in 2005-06 with availability 48% worse than benchmark (Table I). O'Toole's ongoing challenge to Tube Lines is 'sort the Northern Line and bring performance up to an acceptable standard'. Following persistent failures in all asset areas including track, signalling and rolling stock, in December 2005 LU issued the Infraco with a Corrective Action Notice as performance had been below the 'unacceptable' threshold in the contract in 15 out of the 26 four-week periods to June 2005. According to O'Toole, 'the CAN is a serious contractual measure, the terms of which require Tube Lines to restore performance back to at least the contract benchmark in the fourth year. On past form, this will require a significant turnaround'.
Failure to meet the terms of the CAN could see LU resort to 'further, even more serious, contractual remedies', but it notes that performance has improved since the notice was imposed. 'It is performing better', stresses Tube Lines Chief Executive Terry Morgan, who acknowledges that it has been 'more difficult for us to achieve the level of performance we wanted to see'. Carrying 660 395 passengers a day in a fleet of 636 cars, the Northern Line is Tube Lines' busiest and most complex route, and for Morgan it is a 'finely-tuned line stretched to its very limits'. Maintaining asset condition on this busy railway is, he says, 'very difficult for us', particularly at the wheel/rail interface which he describes as 'a very harsh environment'.
With the route 'in a worse condition than we ever appreciated', Tube Lines has agreed with LU an accelerated programme of track renewals that should be completed next year, two years ahead of the contractual target and involving additional investment by the Infraco. The output-based PPP contract gives Tube Lines flexibility to prioritise investment, and the emphasis at present is to improve track quality before the route is resignalled. To improve day-to-day performance in the interim, Morgan notes that additional spending is also directed towards the existing signalling equipment although the business case is 'not particularly strong'.
Tube Lines is also responsible for the Piccadilly Line which in contrast put in the best availability performance in 2005-06, with lost customer hours 39% better than the year before, 64% above benchmark and 58% ahead of bid. LU says that the continuing improvement in performance 'is a result of substantial additional investment and improved management', indicative of what it would like to see from the Infracos across all lines. Fleet reliability is underpinning the performance of the route, says Morgan, who points to the additional investment made by Tube Lines with the result that the 'middle-aged' (in LU's words) Piccadilly Line fleet was the second most reliable on the entire network in 2005-06 with an average Mean Distance Between Failures in excess of 14 000 km.
'A lot of progress has been made in the past year ... We are providing more trains than ever before and passenger disruption has been reduced by a third since transfer to Metronet'.
Andrew Lezala
In contrast, 'we've seen minimal improvement in the performance of the Northern Line fleet', says Morgan. Although MDBF scores for all three Tube Lines fleets were at a similar level at the start of the PPP, the Northern Line MDBF was in second to last position in 2005-06 at 6 000 km, despite the trains being some of the most modern on the network. Tube Lines is currently renegotiating the Northern Line train service provision contract with Alstom that was transferred from LU, with a view to establishing a set of objectives for Alstom in line with its own plan for the route. With Alstom earning bonuses on its contract while Tube Lines was incurring abatements under the PPP, Morgan says it was 'a wee bit tricky to get improvements', but 'I think we have a framework of a deal'.
Investment backlog
Metronet Chief Executive Andrew Lezala feels that a 'lot of progress has been made in the past year and passengers are already benefiting from these improvements. We are providing more trains than ever before and passenger disruption has been reduced by a third since transfer to Metronet'. When he arrived at Metronet in April 2005 he realised that 'we needed to react more quickly to the complexities of operating two separate contracts. I moved quickly to align our two companies more closely together, reducing layers of management within the organisation and establishing a balanced scorecard system to monitor and direct performance'.
Metronet's ongoing challenge from the LU Managing Director is to 'overcome the delays on your renewal programme, and competently and consistently deliver what was promised, without burdening us with delay or additional costs'. With none of the 14 station refurbishment programmes that Metronet BCV was due to undertake in 2005-06 completed by the year end and the projects running on average 24 weeks behind schedule, LU issued a CAN to the Infraco in June 2006. A second was issued to Metronet SSL which, according to LU, is also behind schedule 'with eight stations completed six months late, and further stations in progress but also late'. Financial penalties are being levied.
LU says that the CANs set out a schedule for completing the projects based on Metronet's forecast completion dates at the time of issue. 'We have recommended Metronet address the root caused of their failure to deliver, considering, for example, the level of on-site supervision, timeliness of design reviews, and adequacy of the supply chain arrangements'.
Lezala points out that 'the stations programme is the only part of our major capital works that is not on or ahead of plan'. The delays have been 'costly' to Metronet, he admits, and a recovery programme is being agreed with LU 'which will result in a return to schedule by March 2009'. In addition, the Metronet board has agreed further measures 'which will have a significant and positive impact on future stations delivery'. So far, Metronet has delivered 16 stations, with two more refurbished and 'in use'.
Lezala rejects any suggestion that Metronet's captive supply chain is insulated from the penalties that the Infraco incurs for delivering capital projects behind schedule. 'Under the cost-share arrangement between Metronet and its supply chain, the cost of abatements is borne 40:60 respectively', he says. 'Shareholders certainly do feel the pain of abatements, especially those related to stations.' Metronet's shareholders are Atkins Metro, Balfour Beatty, Thames Water and EDF Energy which are in the supply chain, plus Bombardier Transportation which is not.
In contrast, Tube Lines (owned by Amey and Bechtel) puts the majority of work out to competitive tender. This ensures 'good value for money and a supply chain that is accountable to us for delivering on time', according to Morgan. So far Tube Lines has delivered 30 station refurbishment programmes on time, but Morgan admits that the task has been 'much, much more difficult than we ever appreciated' with costs higher than expected and value for money hard to achieve. For one of its latest projects at Archway, the Infraco has assumed the role of principal contractor, 'to give Tube Lines more direct control to keep the project to schedule and budget'. Morgan explains that 'we had to strengthen the project management skills in the business'.
Renewals and upgrades
Concerned over the management of track maintenance on the District Line, in May 2006 LU issued an Emergency Direction to Metronet SSL, alongside enforcement action by safety regulator HMRI. Although the direction was issued after the end of 2005-06, LU says that it reflected 'general dissatisfaction' that had been building over a number of months. Lezala says 'we have met all HMRI's anxieties and they have now lifted the notice. Furthermore, following a contractual intervention, I have identified a senior manager leading a programme of activities that will ensure all our track management meets our stringent requirements and those of LU. LU has expressed satisfaction with the progress we have made'.
A key strategy for reducing failures is to renew track components, and LU says that all three Infracos delivered a higher level of track renewals in 2005-06 than in previous years. But once again, the picture is mixed. The three bids combined envisage renewing one third of the 845 km of track in the first seven and half years of the 30-year contracts, and at the end of 2005-06 Tube Lines was ahead of bid position, having renewed 32·9 km (Table II). Even with the prospect of higher renewal rates from new high-output equipment Metronet SSL is likely to fall short of its bid target for the first seven and a half year review period. LU says that Metronet BCV's latest plan shows 'better alignment of cost and delivery', but forecast total renewals for the first seven and a half years are now significantly lower.
LU continues to express concern at the number of engineering possessions which over-run and disrupt the start of service for the morning peak, when traffic is at its most intense. In 2005-06 the number of over-runs again increased to reach a total of 207 or nearly four per week, up 3·5% on the year before and nearly 40% up on 2003-04, the first year of the PPP contracts.
The number of over-runs at Metronet BCV was 46 in 2005-06, down from 52 the year before, and Metronet SSL brought the number down from 79 to 51. LU says that this is 'still unacceptably high', but Lezala points out that through 'intensive scrutiny of our working procedures we actually reduced the number by 25% year-on-year'. He notes that 'there will always be the risk of over-runs with managing such a huge and complex upgrade'.
LU feels that many over-runs are caused by 'easily avoidable failures'. These include failing to check that maintenance teams have the correct tools and materials before starting work, or failing to notify the line control centre that all personnel and equipment are clear of the work site at the end of a possession, requiring a time-consuming track search before traction power can be restored and services can resume. As the level of work undertaken under the PPP increases, LU believes that the Infracos 'should become expert at planning to avoid ongoing over-runs'.
The number of over-runs increased by 46% year-on-year at Tube Lines, although the impact on passengers was less severe due to a reduction in their average duration. 'We never plan to have an over-run', says Morgan, adding that Tube Lines has introduced 'very sophisticated planning tools' to maximise the amount of work that can be squeezed into the overnight window. What LU terms 'engineering hours' typically run from 01.30 to 04.30. Weekend possessions up to 52 h in length are the object of 'meticulous planning', while progress is continuously monitored from the control centre that Tube Lines has installed at its London HQ. 'I receive 2 h updates throughout the weekend', says the Chief Executive, who reports that it is 'not unknown' for the work schedule to be revised as late as Saturday to ensure an on-time handover on Monday morning.
With limited opportunities for due diligence within the PPP bidding process, 'I don't deny that there were surprises for us with regard to the condition of the assets we inherited', says Morgan. If an unforeseen problem with the track or formation is encountered during a possession, the choice is to either undertake additional work to restore full capacity or impose a temporary speed restriction. The former may cause the possession to over-run, but the latter has a 'phenomenally different' impact on operations during the peaks when the lost customer hours used to measure delays are 'heavily weighted to reflect load'. Morgan says that he would 'rather get it right first time', but if his engineers decided to take a 'considered risk' and prolong a possession by between 5 min and 10 min 'it wouldn't take a brain surgeon to work out what is the best solution for users'.
Engineering hours will also be used to test new signalling and rolling stock, and as the programme of route upgrades gathers pace 'it is essential that the Infracos understand how to successfully hand back the railway for an undisturbed morning peak'. In his foreword, O'Toole writes: 'Tube Lines and Metronet must improve maintenance and asset performance not only for the good of current performance, but also because the delivery of the line upgrades will be hopelessly muddled and disruptive unless the performance of the existing assets is stabilised and consistent'.
Although outside the core PPP contract, one of the notable achieve-ments of 2005-06 was the completion by Tube Lines on December 29 2005 of a programme to extend 59 trainsets on the Jubilee Line to seven cars. Noting that this was delivered ahead of schedule and under budget, Morgan asks 'when was that last done on a London Underground project?' Capacity on the Jubilee Line is to be increased by 48% by December 2009, followed by a 21% capacity increase on the Northern Line to be delivered by January 2012.
In its annual report LU says that both projects involving resignalling with transmission-based train control (RG 3.06 p145) were 'on programme to deliver nine months ahead of the contractual latest date'. Morgan says 'we're still on time to meet that objective' for the Jubilee Line, and that the Northern Line work is on schedule although this will be 'a massive challenge'. In choosing Alcatel as signalling supplier 'we've bought proven technology' he says, adding that 'we've done everything we can to mitigate the level of risk we're taking' in resignalling an operating railway.
Metronet BCV has completed an upgrade of the Waterloo & City Line, where services resumed on September 11 following a five-month closure for track relaying and signalling modifications (RG 8.06 p464). O'Toole sees this as 'an acid test of Metronet's capability to manage major projects' in the same way as extending the Jubilee Line fleet was a major challenge for Tube Lines. The entire Waterloo & City upgrade is on course to be completed ahead of the contractual deadline of March 2007, following the commissioning of a new control room system early next year. At the end of 2005-06, Metronet BCV's programme to increase capacity on the Victoria Line by 35% by August 2013 was 18% complete, slightly behind its target of 21% but including the start of pre-series train production, installing 37 km of cabling and the letting of a contract to build a new control centre.
Financial outcomes
Under their PPP contracts, the Infracos have spent a total of £2·5bn on renew-ing assets in the three years to March 31 2006 (Table III), while maintenance spending over the same period has totalled £1·6bn (Table IV). The difference between Infraco investment and the ISC payments (Table V), which represent between 47% and 60% of total funding, is met by recourse to private finance including debt, equity and loans. Over the 30-year life of the PPP contracts, private finance is to contribute £5bn towards £30bn of investment.
LU notes that by March 31 2006 the three Infracos were expecting to be earning a combined net bonus of £22m under the PPP performance regime, but in fact a net abatement of £34·3m has been recorded. Particularly in the case of Metronet, which was expecting a net bonus of £17·3m at BCV and £26·3m at SSL by the end of 2005-06, the Infracos 'are under-performing compared to their expectations' according to LU, 'and therefore customers are not benefiting as quickly as they should according to the bids. Despite these abatements, the Infracos continue to report high levels of profit'.
Lezala says that Metronet's pre-tax profits for its three years in operation 'have been broadly in line with its forecast'. However, provisions for the anticipated abatements on the performance of the stations programme have impacted these results.
Morgan is robust in his defence of profits at Tube Lines. 'That's because of the performance', he says, pointing to projects delivered on time and 20% of project expenditure represented by works supplemental to the PPP contract (such as the rebuilding of Wembley Park station) awarded by LU on an incremental basis. 'I think making a profit is entirely reasonable', he adds. 'We are doing work at a cost that LU would not have done it' and much of the cash generated by Tube Lines is retained in the business to support extra expenditure. In the 1980s and 1990s the call was for more investment in LU and 'it's now got it', he says, noting that Tube Lines inherited an annual renewals spend of around £130m. 'Last year we almost hit £460m', says Morgan. 'I happen to think PPP works'.
CAPTION: At Metronet SSL, the introduction of high-output equipment originally developed for the national network is expected to deliver a step-change in track renewal capability, doubling the length of track that can be renewed during a weekend possession and tripling the number of worksites. Under a 10-year contract worth £80m, GB Railfreight is providing nine Class 66 locos, 153 wagons, a Slinger relaying train and three tampers, first deployed in August on the Metropolitan Line at Amersham
CAPTION: Although it is far from being the youngest, the Piccadilly Line fleet dating from 1973 was one of the most reliable on London Underground during 2005-06. Tube Lines has undertaken additional investment to improve train reliability, key to ensuring satisfactory route performance
CAPTION: During a 12-month closure of Queensway station on the Central Line, Metronet BCV replaced two 50-person passenger lifts and installed new passenger information and CCTV systems. Original features dating from 1900 were restored to give cleaner and brighter facilities for the 6·1 million passengers who use the station every year
CAPTION: Maintenance of the Northern Line train fleet is undertaken by Alstom under a contract that Tube Lines has inherited from London Underground. At the far southern end of the route, Morden depot is home to many of the 106 trainsets which carry over 660 000 passengers a day