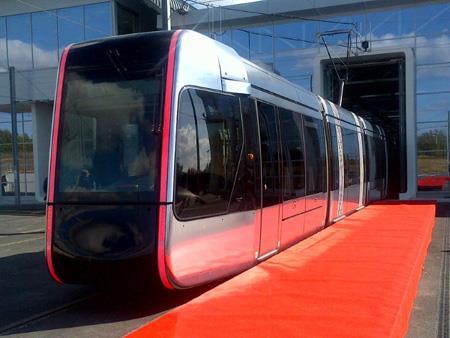 FRANCE: The first Alstom Citadis 402 tram for the line under construction in Tours was unveiled to the public during an open day at the maintenance depot on September 30.
Transport authority SITCAT awarded Alstom a €73m contract to supply 21 of the seven-section trams in September 2010, and the first was delivered from Alstom's La Rochelle plant two years later. The Tours cars are 43·7 m long and 2 400 mm wide, with 12 double doors, four single doors and a capacity of about 300 passengers, including 88 seated.
Styling agency RCP developed the 'architecture in motion' theme for the trams. A mirrored outer covering applied as 300 pre-cut pieces of adhesive film is intended to reflect the surrounding urban environment and resemble the River Loire. The tram fronts feature two vertical strips of LEDs aligned with the rails.
Construction of the 15 km north-south line from Lycée Vaucanson to Lycée Jean Monnet with 29 stops began in 2010, and opening is planned for September 2013. APS catenary free-operation will be used on a 1·8 km section where the line runs through the World Heritage city centre.