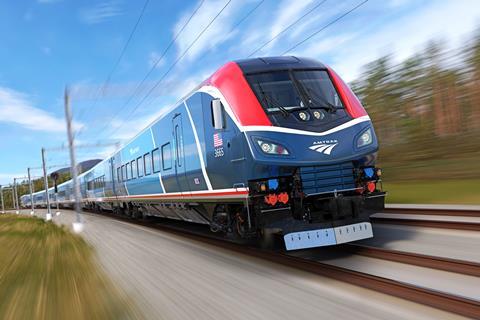 USA: Amtrak has awarded Siemens Mobility a firm order to supply a further 10 Airo push-pull trainsets.
The order announced by the national passenger operator on August 21 has been placed as an option on a contract let in 2021. It takes the total procurement to 83 trainsets, with the first scheduled to enter service in 2026.
They will operate on the Northeast Regional, Empire Service, Virginia Services, Keystone Service, Downeaster, Cascades, Maple Leaf, New Haven/Springfield Service, Palmetto, Carolinian, Pennsylvanian, Vermonter, Ethan Allen Express and Adirondack routes.
'We're thrilled to satisfy the soaring demand for train travel with new state-of-the-art, American-made equipment that ensures the highest standards of comfort, service and amenities', said Amtrak President Roger Harris. 'These new trainsets will help us get people where they need to go, while reducing road and air congestion, creating jobs and supporting the American economy.'
Onboard facilities
Some of the 200 km/h Airo sets will be diesel only, but most will be bi-modes, with the coach next to the locomotive being an 'auxiliary power vehicle' with a pantograph and supplementary powered bogie.
The coaches will have seats with contoured cushions, enhanced leg room, individual arm rests, adjustable headrests, larger and sturdier tray tables and adjustable cup holders. There will be 5G wi-fi and digital information systems, with at-seat power and USB-C ports and seatback tablet and phone holders.
There will be bold colour-coded signage to identify amenities and differentiate classes.
Dedicated water stations will reduce the need for disposable plastic bottles.
There will be accessible toilets, vestibules and cafe cars with integrated boarding equipment, as well as inductive hearing technology to assist with onboard announcements.