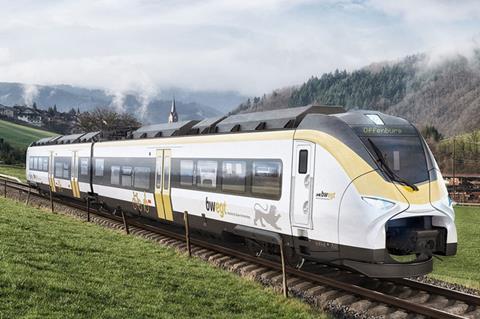 GERMANY: Hydrogen-powered rolling stock is less efficient and more expensive than battery-powered traction on non-electrified routes, according to a study commissioned by the Baden-Württemberg Land transport ministry. Conventional electrification is also a better choice where there are infill opportunities, the study concluded.
Compiled by a consortium of consultants including Transport Technologie-Consult Karlsruhe GmbH and komobile GmbH of Wien, the study examined three options for 16 unelectrified routes across Baden-Württemberg: conventional electrification, use of hybrid electric-battery multiple-units and deployment of hybrid trains fitted with hydrogen fuel cells.
The study found that there was no case for further consideration of hydrogen on economic and operational grounds. Direct comparison with the alternatives showed that, taking infrastructure characteristics and the nature of local operations into account, there was no route where the use of hydrogen would be warranted.
Strategic assessment
On certain routes, full electrification could be justified where it filled gaps in the existing electrified network. In other cases, use of hybrid battery-electric rolling stock was the most viable option.
Various infrastructure scenarios and their associated costs were studied and possible synergy effects and strategic aspects evaluated. Rolling stock costs including maintenance and energy costs were examined ― the study looked at acceleration and braking performance, energy consumption and CO2 emissions, including those generated at sites remote from the point of use. Potential sites for hydrogen fuelling points and battery charging were assessed and possible 'islands' of overhead wires and the logistics needed to supply hydrogen fuelling points were examined.
While the use of hydrogen fuel cells required little or no modifications to existing infrastructure and few changes to operations, disadvantages included high costs for establishing fuelling points and related new infrastructure. High energy consumption and high costs meant poor efficiency, exacerbated by a full tank of hydrogen not sufficing for a full day's use; this implied that additional rolling stock could be needed. The limited availability of 'green' hydrogen was also a factor.
Hybrid battery-electric trains could be used where there were gaps in the power supply; they were comparable to electric trains in terms of operational efficiency. With the ability to operate without interruption for a whole day if batteries could be charged while operating under wired sections, there would be no need to stop for refuelling; the option of full electrification at a later date remained.
Disadvantages of battery power included a relatively short operating range before batteries needed recharging; in most cases some infrastructure improvements would be needed.
Whole-life costs compared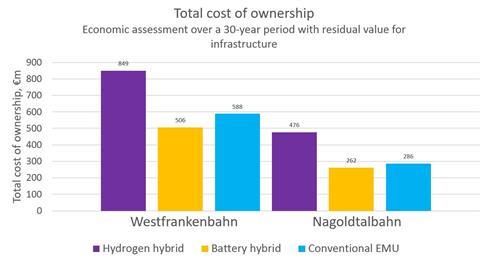 Comparison of the three options on two groups of routes showed that the cost of using hydrogen power was significantly higher over a 30-year period. 'Total cost of ownership' on the Westfrankenbahn would be €849m for hybrid trains with fuel cells compared with €588m for electrification and €506m for hybrid-battery trainsets. On the Nagoldtalbahn hydrogen power would cost €476m against €286m for electrification and €262m for hybrid-battery trains.
The study recommended that five routes be electrified and that up to 664 km of route should be operated with hybrid battery-electric trainsets. Local authorities have been invited to debate the conclusions of the study with the Land transport ministry with a view to agreeing a strategy for emission-free rail services by the start of 2023.
Test programme
Baden-Württemberg has committed to no further acquisitions of diesel-powered trains. It has already tested trains powered by hydrogen fuel cells and batteries, and further trials are planned. A hybrid Alstom Talent multiple-unit with batteries ran on the Gäubahn between Stuttgart and Horb from January to May 2022 and an Alstom Coradia iLint hybrid unit with fuel cells was tested on the Zollern-Alb-Bahn from Eyach to Hechingen and Sigmaringen from mid-July 2021 until the end of February 2022.
A fleet of 23 battery-electric Siemens Mireo trainsets is due to enter commercial service from December 2023 on six routes, three of which originate at Offenburg. In addition, a Siemens Mireo Plus H hybrid unit with fuel cells is to be tested in commercial service on the Nagoldtalbahn from Tübingen to Horb and Pforzheim for one year from January 2024; partners in this project include Deutsche Bahn, which is working on the development of an innovative hydrogen fuel cell fuelling point.
Baden-Württemberg Transport Minister Winfried Hermann said that to reach climate targets set for the transport sector, diesel traction on the rail network had to be eliminated as soon as possible. As installing overhead wires took a long time and could in some cases be very costly, the choice on several routes was to use alternative traction. The study had provided valuable insights, he concluded.
| Network | Route | Recommendation |
| --- | --- | --- |
| Nagoldtalbahn | Pforzheim – Horb | hybrid electric-battery |
| Donautalbahn Plus network | Ulm – Sigmaringen; Sigmaringen – Tuttlingen; Herbertingen – Aulendorf | hybrid battery-electric |
| RSB Bodensee – Oberschwaben network | Aulendorf – Kisslegg | electrification |
| Westfrankenbahn | Crailsheim – Lauda/Königshofen – Wertheim – Miltenberg – Seckach | hybrid battery-electric |
| Hohenlohebahn | Heilbronn – Öhringen – Schwäbisch – Hall/Hessental | electrification |
| Stuttgart area | Korntal – Weissach; Kirchheim/Teck – Oberlenningen; Nürtingen – Neuffen | electrification |