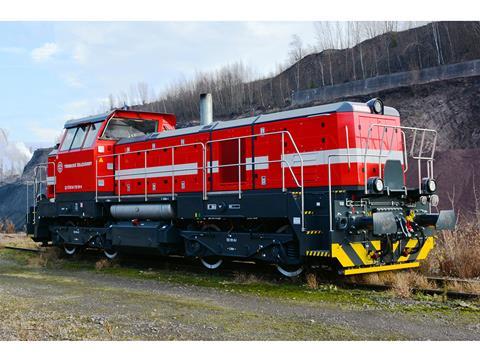 EUROPE: Czech rolling stock manufacturer CZ Loko has delivered the first EffiShunter 500 shunting locomotive, with a second to follow shortly.
The Bo-Bo design retains the underframe and bogies of the ČKD-built Class 740 locomotive, but is otherwise newly built to the customer's requirements. It powered by a 522 kW Caterpillar C18 engine meeting EU Stage IIIA emission standards, with AC-DC transmission and electronic controls from MSV Elektronika. It has an overall length of 13 820 mm, weighs 72 tonnes and has a maximum speed 80 km/h.
Locomotive 723.701 was delivered to the Třinecké Železárny steelworks in late 2015. The second locomotive was bought by Naftna Industrija Srbije Novi Sad of Serbia and scheduled to be delivered in the first quarter of 2016.