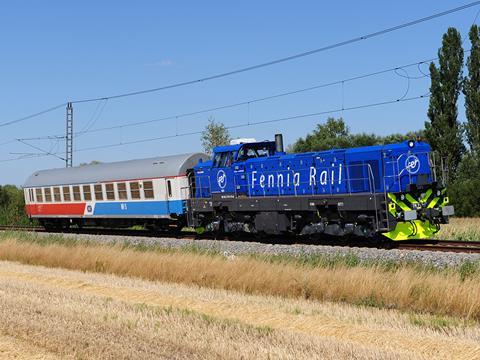 FINLAND: The first of three locomotives which privately-owned Fennia Rail ordered from CZ Loko in November 2014 is undergoing trials at the Velim test circuit in the Czech Republic ahead of delivery later this month. The 1 524 mm gauge locomotive has been fitted with 1 435 mm gauge bogies for the tests.
Designated Dr18 in Finland, the design is based on CZ Loko's Class 774.7 for the Czech market. It is a rebuild of a ČKD-built Class 770, with a Caterpillar CAT 3512 C HD engine rated at 1 550 kW which meets EU Stage IIIA emissions standards. It has AC/DC transmission, and a maximum speed of 90 km/h.
Fennia Rail was granted an operating licence on March 26. It expects to take delivery of all three locomotives by the end of the year, enabling it to launch open access freight services in southern Finland.