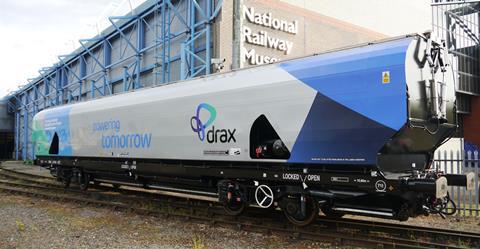 UK: Power station operator Drax unveiled what it says is the UK's first purpose-built biomass wagon on July 25. Designed by Lloyd's Register Rail and manufactured by WH Davis, the vehicle has a capacity of 116 m3, which Drax says is almost 30% more than other UK wagons.
Drax has ordered 200 wagons which will be used to transport pelletised biomass from the ports of Tyne, Hull and Immingham to Drax power station.
The design engineers faced a number of challenges to achieve the desired high capacity within the limits of the tight UK loading gauge, while ensuring the biomass is fully covered to keep it dry and prevent spillage.
'This is the sort of project that designers relish', said Richard Gibney, Professional Head of Traction & Rolling Stock at Lloyd's Register Rail UK. 'An opportunity to take a current design and re-imagine the entire concept, taking advantage of what we have learnt from the performance of the existing model, removing some of the inefficiencies and delivering an optimised design.'
The wagon has a 3CR12 stainless steel main structure, with a mild steel underframe, S355 high-strength steel headstocks and bolsters, and aluminium roof doors. The load capacity is 71·6 tonnes, and there is a 'unique' solebar design. The bottom door has been custom-designed, featuring fully automatic, non-contact zero-power operation using lineside magnets, and patented movable surfaces to control biomass flow and prevent spillage during discharge.
Ian Whelpton, Sales & Marketing Director at WH Davis, said the project 'has been one of the most challenging fabrications we have undertaken, but by working with the wagon designers from the beginning, we have been able to manufacture the required innovations and achieve the significantly increased cubic capacity
Biomass wagon
Design
Lloyd's Register Rail
Manufacturer
WH Davis
Length over buffers
18 880 mm
Bogie centres
10 800 mm
Capacity
116 m3
Loading gauge
W6a (W6b)
Tare weight
30 tonnes
Gross laden weight
102 tonnes
Bottom door length
3 724 mm
Top door length
18 200 mm