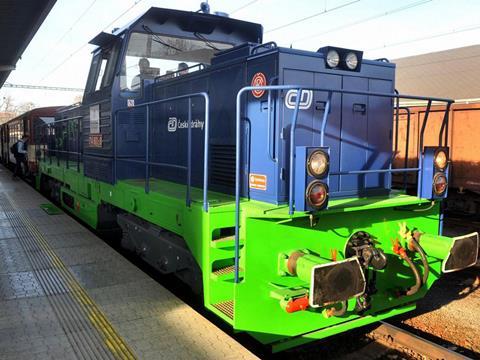 CZECH REPUBLIC: A diesel-electric locomotive adapted to use compressed natural gas fuel has entered trial passenger service with national operator ČD.
The pilot programme aims to assess the economic, environmental and practical applications of CNG, and ČD plans to convert all its Class 714 locomotives if the testing proves successful.
The trial on the 22 km Opava – Hlučín route began on January 15 and is scheduled to run until the end of June. Gas-fuelled locomotive 714.801 is operating similar diagrams to conventional diesel locomotive 714.016, enabling direct comparisons to be made. The hope is that the use of CNG can cut operating costs by almost a half, and reduce emissions.
The four-axle locomotive was converted as a collaboration between Vítkovice Doprava, CZ Loko, the VÚZ rail research institute, Tedom, ČD and ČD Cargo. It is powered by two 260 kW Tedom TG 250 AV engines which use technology developed by Omnitek Engineering Corp. The locomotive weighs 64 tonnes and has a maximum speed of 80 km/h.
The fuel tank has been replaced by a bundle of 360 mm diameter gas cylinders with a total capacity of 3 430 litres, or 479 kg of CNG pressurised at 200 bar, which gives a range of 510 km without refuelling.
'We applaud programme leaders for choosing Omnitek's 100% dedicated natural gas technology over dual-fuel technology, which offers little economic savings potential and not the same low-emissions performance', said Werner Funk, President & CEO of Omnitek Engineering Corp.
On December 11, another CNG-fuelled locomotive 714.811, which is owned by Vítkovice Doprava, undertook a series of noise tests on the nearby Háj ve Slezsku – Štítina route.