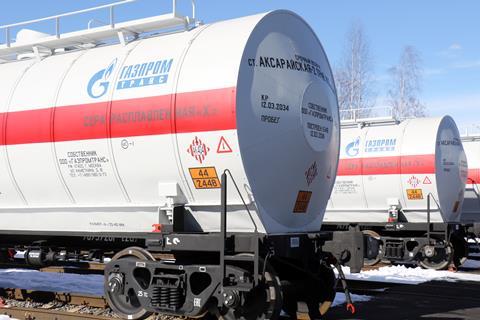 RUSSIA: Gazprom subsidiary Gazpromtrans has awarded United Wagon a contract to supply a further 120 tank wagons for the transport of molten sulphur.
The latest firm order announced on October 29 follows from a contract for 60 which was agreed in August, taking the total value to 1·8bn roubles for 180 wagons. Deliveries are to be completed by the end of the first quarter of 2020.
UWC said the Type 15-6913 tank wagon had been designed in close co-operation with major chemical companies. The 25 tonne axleload bogies provide a capacity of 44 m3 or 72 tonnes, 9 tonnes more than 23·5 tonne axleload equivalent. Overhauls are scheduled for to 1 million km or eight years, and the wagons have an expected service life of 32 years.
Gazpromtrans already has 112 tank cars manufactured by UWC in its fleet. 'The tank cars for transportation of sulphur successfully passed functional tests at our branches in Orenburg and Astrakhan before they went into serial production', said Gazpromtrans CEO Maxim Mironenko. 'We have signed a contract that enables our company to replace rolling stock at the end of its service life with new generation tank cars.'