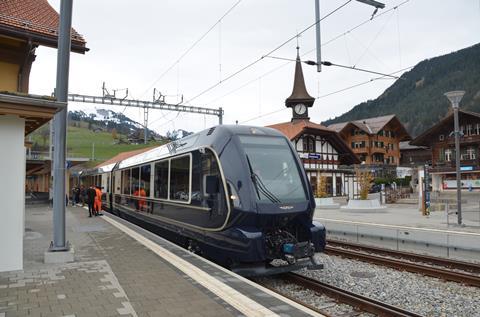 SWITZERLAND: The GoldenPass Express service has once again begun running through from Montreux to Interlaken, after modifications were made to the gauge-changing rolling stock to address problems with excessive track wear.
Through running from the metre gauge Montreux-Oberland Bahn network to standard gauge BLS tracks began in December 2022 using bespoke Stadler panoramic coaches with gauge changing bogies.
However, at the end of February routine checks undertaken by BLS identified increased wear on its turnouts. As a result, the operation of the new stock on the standard gauge section of the route was suspended.
The vehicles remained in service on the metre gauge section of the route, with passengers changing trains at Zweisimmen.
MOB and BLS undertook extensive tests, and found that by reducing the wheel spacing by a few millimetres the interaction between the wheels and certain turnouts could be improved and the cause of the increased wear eliminated.
A daily through service restarted on June 11, with another three daily through services to be added by the end of July as additional vehicles are modified.