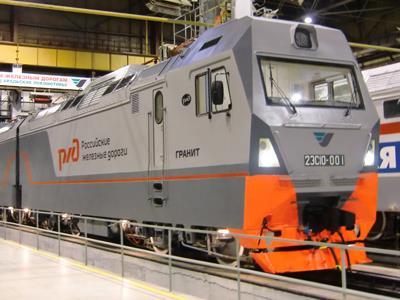 RUSSIA: A Type 2ES10 Granite twin-section electric freight locomotive manufactured by the Ural Locomotives joint venture of Sinara (51%) and Siemens (49%) has been undergoing haulage and energy efficiency testing on Russian Railways' Oktyabrskaya Railway as part of a government programme to increase capacity on routes to ports in northwest Russia.
Engineers from RZD, Ural Locomotives and brake specialist MTZ-Transmash undertook six trial runs with trains weighing up to 12 000 tonnes on the 495 km Babaevo – Luzhskaya and 392 km Babaevo – Svir routes during September. These tests showed that a 2ES10 could haul 2·4 km long, 12 000 tonne trains on gradients up to 0·86% and 5·3 km long trains with a limiting gradient of 0
61%.
On May 27 2010 RZD awarded Ural Locomotives a 42bn rouble contract to supply 221 of the 8·8 MW twin-section 3 kV DC locomotives with asynchronous traction motors. The design aimed to reduce whole-life operating and maintenance costs by a quarter, whilst offering twice the power output of the VL11 locomotives they are replacing.
A 13·2 MW three-section version of the Granite hauled 9 000 tonnes through the Ural mountains from Yekaterinburg to Balezino during a test run on August 4 2011, and operating certification was awarded on September 7 2011.
There are currently 151 Granite locomotives in service, including 35 three-section versions.