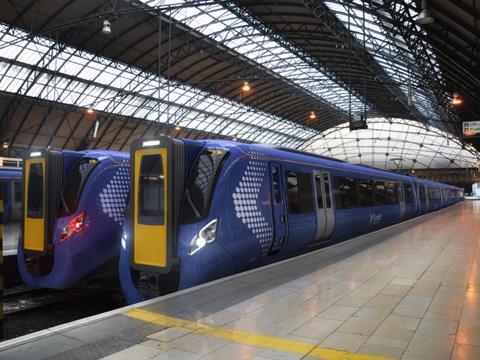 UK: Hitachi Rail Europe confirmed on October 9 that it has been selected as preferred bidder to supply and maintain a fleet of electric multiple-units for the next ScotRail franchise, which had been awarded to Abellio by Transport Scotland the previous day.
Subject to the successful conclusion of negotiations, Hitachi Rail Europe is to build 234 vehicles, which will be formed as 46 three-car and 24 four-car EMUs. Scheduled to enter service in 2017, they will operate on the Edinburgh – Glasgow via Falkirk route as well as on suburban services from both cities to Stirling, Alloa and Dunblane. These routes are currently being electrified at 25 kV 50 Hz as part of Network Rail's Edinburgh Glasgow Improvement Programme.
This is the first order for Hitachi's new AT200 EMU design, for which a mock-up bodyshell was unveiled in July and subsequently displayed at InnoTrans. Formed of 23 m vehicles, the 160 km/h EMUs will be fitted with cab-end gangways for multiple operation. They will have aluminium bodyshells manufactured at the company's Kasado plant in Japan using friction stir welding. Hitachi suggests that this technology could be imported to its Newton Aycliffe factory in northern England, now under construction, if 'another two or three' follow-up orders were received.
According to Abellio, 'the new fleet proposal was a major feature in our winning bid'. Hitachi says the AT200 EMUs will have a 35-year design life, and meet the requirements set out by Transport Scotland for energy efficiency and weight reduction to minimise their impact on the infrastructure. Chief Operating Officer Andy Barr added that 'we wanted to ensure that passengers have a pleasant travelling environment with adequate table and toilet facilities, LED lighting and air conditioning as standard. Power sockets and wi-fi will be available throughout the train'.