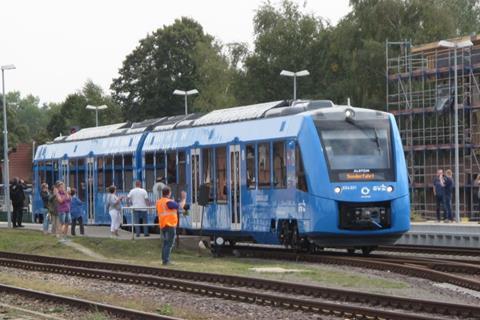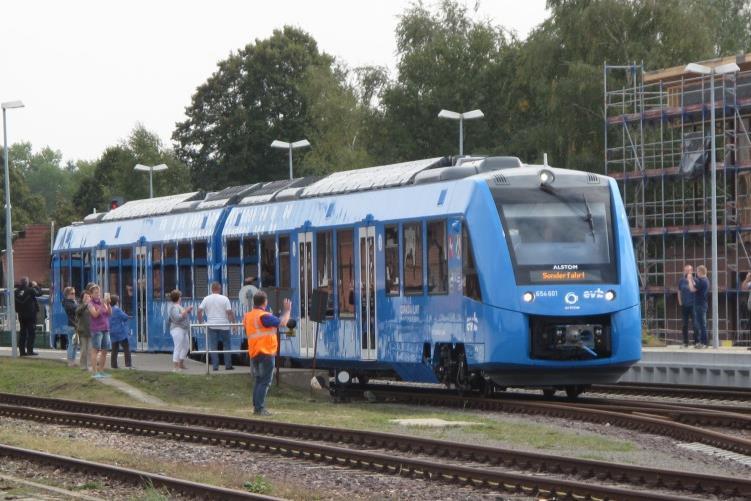 GERMANY: Alstom has announced the formal completion of trial operation of two pre-series Coradia iLint hydrogen fuel cell multiple-units.
The units entered passenger service with Eisenbahnen und Verkehrsbetriebe Elbe-Weser in September 2018, since when they have successfully completed 530 days and more than 180 000 km of operation.
The roof-mounted hydrogen tanks give the 140 km/h units a range of around 1 000 km, sufficient for a day's operation.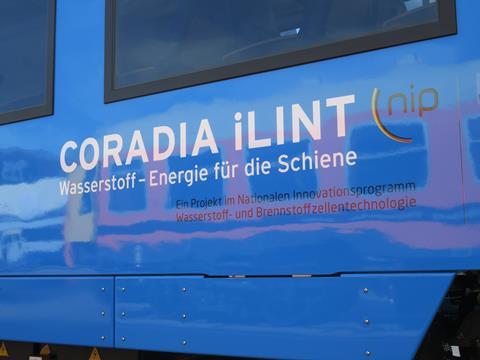 'Our two pre-series trains have proven over the past year and a half that fuel cell technology can be used successfully in daily passenger service', said Jörg Nikutta, Alstom Transport Deutschland's Managing Director for Germany & Austria on May 19. He said that this was an important step on the way to emission-free and sustainable rail transport, and the trial had provided valuable data for the further development of the technology.
Niedersachsen's Minister of Economics & Transport Dr Bernd Althusmann said the Land was 'witnessing the first competitive product of hydrogen mobility at industrial level', and the project's importance for industrial policy 'goes far beyond Germany'.
In November 2017 regional transport authority LNVG awarded Alstom a contract to supply a fleet of 14 Coradia iLint units for commercial operation between Cuxhaven, Bremerhaven, Bremervörde and Buxtehude from 2022. The contract includes 30 years of maintenance at the manufacturer's Salzgitter site as well as supply of the fuel, with gas company Linde to build and operate a filling point in Bremervörde.
State Secretary at the federal Ministry of Transport & Digital Infrastructure Enak Ferlemann said hydrogen was 'a real low-emission and efficient alternative to diesel', especially for secondary lines where electrification is not yet installed or deemed uneconomic, and the ministry 'would like to see more such applications'.
The Coradia iLint was described in detail in the March 2017 issue of Railway Gazette International magazine, which subscribers can access in the digital archive.