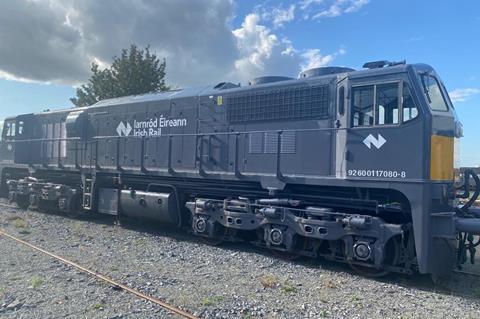 IRELAND: National railway Iarnród Éireann is to work with Latvian traction technology company DiGas to undertake a proof-of-concept conversion of a diesel locomotive to use hydrogen in its existing engine.
IÉ will provide one of its EMD-built Class 071 locomotive dating from the 1970s for the project, and will make workshop facilities available for installation, testing and commissioning. It will also identify partners to supply the hydrogen fuel. DiGas will manufacture and install the Hydrogen Internal Combustion Engine retrofitting kit. Static testing to check power and emissions is planned for 2024, ahead of operating trials in 2025.
IÉ believes that hydrogen fuelling could potentially provide a cost-effective way to decarbonise its existing diesel locomotive fleet. It explained that the DiGas H2 ICE conversion would require minimal changes to the locomotive, unlike other hydrogen traction projects which use fuel cells or specially produced hydrogen engines.
'Iarnród Éireann has 18 Class 071 diesel locomotives in railway operations, 12 of which are used to support freight', said CEO Jim Meade on September 14. 'If the conversion tests are successful, these locomotives can be converted to greener and more efficient alternatives.'
DiGas has previously converted locomotives in Latvia, Estonia and Poland to diesel-gas dual fuel operation. 'We see the same challenge over and over again with all railway operators — the need to decarbonise their operations but having an extremely long life-cycle of their assets which still run on diesel fuel', said DiGas CEO Petro Dumenko. 'This project will showcase a cost-effective and practical way for operators like Iarnród Éireann to decarbonise their existing fleet.'
The €1·5m project is being funded by IÉ and DiGas, with contributions from the European Institute of Innovation & Technology, and Recovery & Resilience funding through Latvia's Mechanical Engineering Competence Centre.