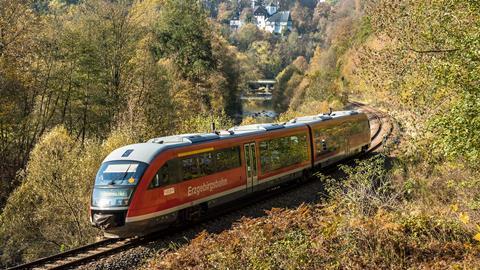 GERMANY: Deutsche Bahn and Knorr-Bremse have finalised a framework agreement for the modernisation of braking systems on Class 642 Siemens Desiro regional diesel multiple-units.
By the end of 2024, Knorr-Bremse is to supply at least 155 ESRA Evolution brake control conversion kits which will be fitted to the DMUs by staff at DB's workshops in Chemnitz and Erfurt. Knorr-Bremse RailServices will support the training of DB technicians and the initial commissioning.
The framework agreement follows the granting by the federal railway authority EBA of unconditional authorisation for placing in service of a pilot modernised Class 642, allowing further vehicles to be retrofitted.
Knorr-Bremse said the advantages of the widely-used ESRA Evolution brake control units include the ready availability of spare parts and improved wheel slide protection that complies with EU Technical Specification for Interoperability regulations.
'Knorr-Bremse is making a decisive contribution to increasing the reliability and availability of these regional commuter trains', said Dr Jürgen Wilder, Knorr-Bremse executive board member responsible for the Rail Vehicle Systems division, when the deal was announced on March 17.
'The modernisation work will help to prolong the service lives of the vehicles and avoid the risk of obsolesence, whereby whole vehicles have to be retired due to outdated components', added Mark Cleobury, member of the management board of Knorr-Bremse Rail Vehicle Systems. 'So this measure is also fully aligned with the more sustainable use of resources. This commission from our partner DB attests not only to the expertise of our company but also to our strong position as an aftermarket supplier and modernisation partner.'