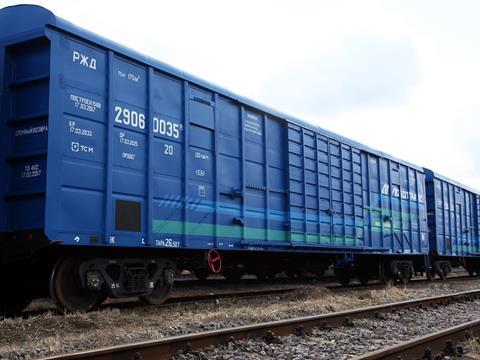 RUSSIA: Lokotrans has awarded United Wagon Co subsidiary TikhvinSpetsMash a contract to supply 40 high-capacity covered vans by the middle of this year.
The Type 11-6874 general purpose van was developed by UWC's All-Union Research & Development Centre for Transportation Technology. The 25 tonne axleload bogies allow for a payload of 73 tonnes and there is a usable capacity of 175 m3, 15 m3 more than typical older designs. The wide doors are suitable for use with all types of forklift trucks, with the corrugated steel sheet floor providing adhesion for loading machine wheels. There are also roof and side wall hatches for loading of loose freight.
The wagon is designed for a service life of 32 years and 800 000 km or eight years between overhauls.
'We are already familiar with Tikhvin wagons', said Lokotrans CEO Alexey Petrov when the order was announced on May 3. 'Last year we purchased a large batch of timber wagons. Now it is time to update our boxcar fleet to provide our clients with high quality rolling stock.'