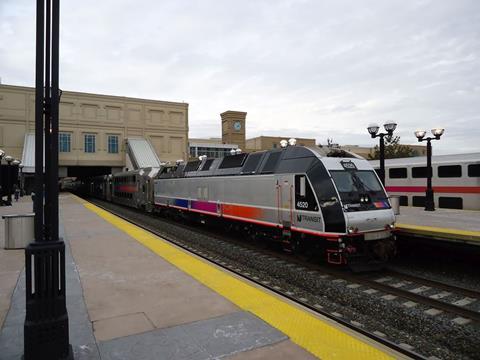 USA: New Jersey Transit has decided to exercise an option for a further 17 dual-powered ALP-45 locomotives from Bombardier Transit Corp, in order to replace more of its oldest diesel locos.
The NJ Transit board voted on December 13 to approve a recommendation to acquire the 17 locomotives at an estimated cost of $167·7m including spares. The total contract authorisation of $184·5m includes 10% for contingencies, including potential fluctuations in the US$-euro exchange rate.
Since December 2011 NJ Transit has taken delivery of 35 electro-diesels under a contract awarded to Bombardier in 2008. This covered an initial build of 26 locomotives with options for up to 63 more, of which an additional nine were ordered in July 2011.
Able to run at up to 200 km/h in electric mode and 160 km/h using twin Caterpillar diesel engines, the ALP-45s are deployed on push-pull commuter rail services in New Jersey; the design is also used by RTM in Montréal. The latest locomotives will be compliant with the current EPA Tier 4 emissions requirements.
The additional locomotives are intended to replace some of NJ Transit's aging GP40 and F40 locomotives, which date from the 1960s and are becoming increasingly difficult and expensive to maintain. 'The addition of these new dual-powered locomotives continues our effort to modernise our fleet', said Executive Director Steven Santoro. 'These locomotives can operate across the entire rail system in either electric or diesel mode providing us with greater versatility and operating efficiency.'