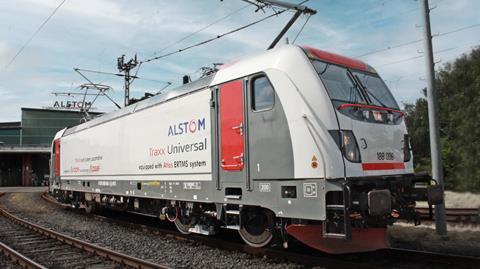 EUROPE: Alstom has been awarded a €370m framework contract to supply 50 multi-system Traxx Universal locomotives to rolling stock leasing company Northrail AG, including up to 16 years of full-service maintenance.
The deal announced on June 29 includes a firm order for 15 locomotives with eight years of maintenance. The locomotives are to be manufactured at Alstom's Kassel site for delivery from 2025, and will be fitted with Atlas onboard ETCS equipment.
'With this innovative new multi-system locomotive, which in particular includes the homologation for France, we are very pleased to be a first mover in the locomotive leasing industry once again,' commented Michael Trentzsch, Member of the Executive Board of Northrail.
The asset manager will act as lessor for the locomotives, which are being funded by Paris-based private equity company RIVE.
'This order made through our leasing platform established with our long-standing partner Northrail will further strengthen the rail strategy of RIVE', explained Partner Camille Brunel. 'By supporting innovation and bringing efficient products to the operators, RIVE is actively contributing to Europe's energy and environmental transition policy.'