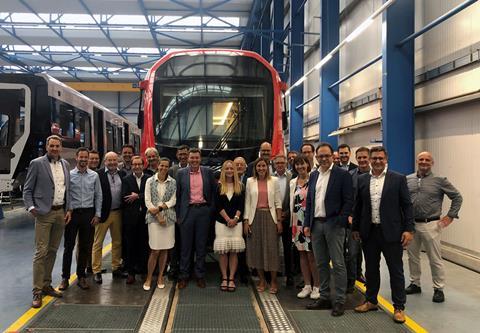 SWITZERLAND: The first of the Orion metre-gauge rack electric multiple-units ordered by Matterhorn Gotthard Bahn has been unveiled at Stadler's Bussnang factory.
In March 2020 MGB placed a SFr148·5m order for 12 EMUs to replace locomotive-hauled stock as part of its 2030 fleet strategy. It has options to order up to 15 more by 2028.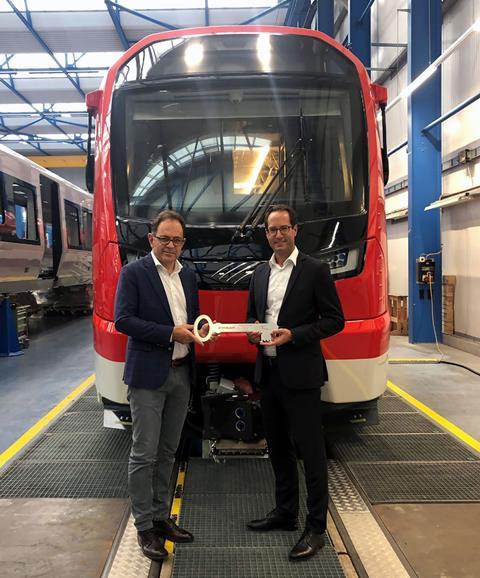 Designated ABeh 8/12, the EMUs have been branded Optimaler Regionalzug Im Oeffentlichen Nahverkehr, 'optimal regional train in public transport'. This follows the astronomy theme adopted by MGB's parent company BVZ Holding, which has previously bought Komet (Komfortabler Meterspur-Triebzug, comfortable metre-gauge railcars) EMUs for MGB and Polaris (POpular LAndscape Railway In Switzerland) units for the Gornergrat mountain railway.
The first Orion EMU is expected to be delivered for testing in September, ahead of entry into service from May 2023. All 12 are scheduled to be in service from the December 2023 timetable change.
The 11 kV 16·7 Hz EMU features lightweight materials, energy-efficient drive components, oil-free transformers and a 'sleep mode' to reduce energy consumption.
The three-car unit is 56·6 m long with 24 first and 118 second class seats, seven wheelchair spaces, low-floor entrances, wi-fi and multi-purpose spaces for storing luggage and sports equipment.
The EMUs will be able to operate on the entire MGB network between Zermatt and Disentis, including the 18% gradient between Göschenen and Andermatt. Up to three trainsets will be able to operate in multiple.
The maximum speed is 100 km/h on adhesion sections of the route and 35 km/h going uphill on rack sections.