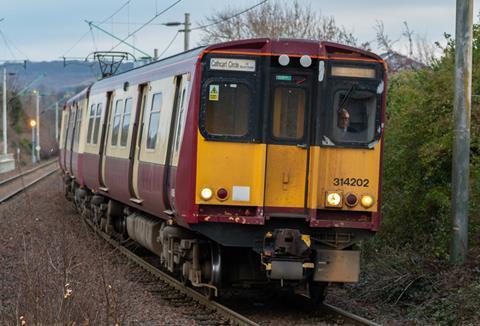 UK: The University of St Andrews has begun the process of appointing an industrial partner to participate in the Zero Emission Train Project, which will see a redundant Class 314 electric multiple-unit equipped with hydrogen fuel cells as a technology demonstrator.
The project is being led by Scottish Enterprise and Transport Scotland. Brodie Engineering and Arcola Energy have already completed concept designs under the first phase of the project. Phase 2 would see the EMU modified to use fuel cells under a 12-month contract worth an estimated £2·2m.
It is envisaged that the converted unit would be demonstrated on a non-Network Rail line such as a heritage railway, as part of the COP 26 climate change conference which is now expected to take place in Glasgow in November 2021. This would allow an assessment to ensure that the modifications do not present risks to the operational railway.
Equipping the unit to operate on Network Rail infrastructure would form a third phase of the project, should this be required.
The project has six key objectives:
to show that there is the capability to undertake the modification work in Scotland;
to work with regulatory bodies to develop the necessary standards and controls for the use of hydrogen fuel cells on passenger rolling stock;
to inform the development of a policy for the use of independently powered multiple units to meet the target of zero emissions from passenger trains in Scotland in 2035;
to demonstrate the operation of hydrogen passenger rolling stock
to provide the supply chain with the opportunity to develop skills and knowledge of the application of hydrogen to passenger rolling stock, including hydrogen supply and refuelling infrastructure;
to provide educational institutions with the opportunity to develop their skills and advance their knowledge of the application of hydrogen to the rail industry
'It's a real opportunity to demonstrate innovation and to get involved with an industry of the future', said Scottish Enterprise Managing Director of Economic Development Linda Hanna on September 15.