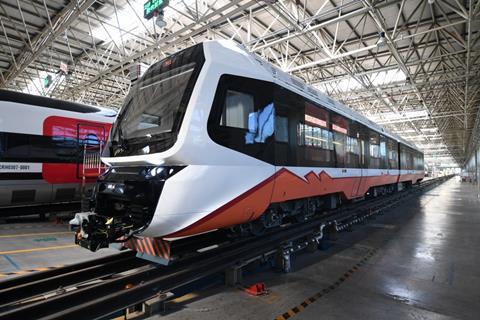 ARGENTINA: CRRC Tangshan has unveiled the first of two articulated battery railcars to operate solar-powered tourist trains through the Quebrada de Humahuaca World Heritage site in northwest Argentina.
Backed by the province of Jujuy, the Tren Turístico de La Quebrada project involves the reactivation of passenger services on a section of the metre-gauge Belgrano Railway branch to La Quiaca near the Bolivian border. Completion of the first train in June was welcomed by the provincial governor, Gerardo Morales, who said it would support Jujuy's rapidly growing tourism industry.
Designated by UNESCO in 2003 as an Area of Outstanding Universal Value, the 155 km Quebrada de Humahuaca is a narrow and arid valley, flanked by the high plateau of the Puna. The 10 000 year old Camino Inca trail runs through the gorge of the Rio Grande de Jujuy, flowing from its source in the High Andes to its confluence with the Rio León.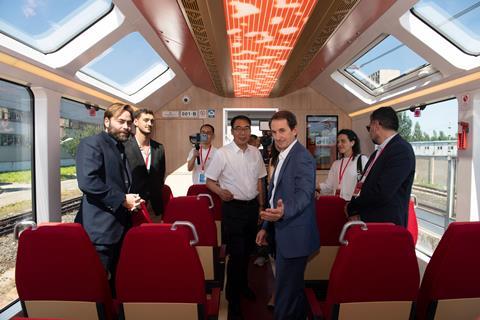 The so-called 'solar train' will operate on a 46 km section of the line through the gorge between Volcán and Tilcara, serving 'thematic' stations at Tumbaya, Purmamarca and Maimará. Renovation of the infrastructure was reported to be around 70% complete in early June.
Ordered in 2022, the six-axle two-section railcars are powered by a lithium battery pack, which will be recharged using a 6 MW solar farm and energy storage facility at one of the stations. Designed to operate at a maximum speed of 60 km/h, they will be able to carry up to 388 passengers, including 72 seated. Described by the manufacturer as the first of their kind in Argentina, the trains have an external livery inspired by local colours and design styles.
According to the province's Minister of Culture & Tourism, Federico Posadas, the solar train service will be inaugurated in October. Enthusing that the gorge was 'one of the most beautiful places in Argentina', Posadas said he expected the sightseeing train to become 'one of the most attractive tourist products in Jujuy', and would mark a turning point for tourism in the region. He told local media that tourism in the province was experiencing a 'spectacular' rebound following the coronavirus pandemic.