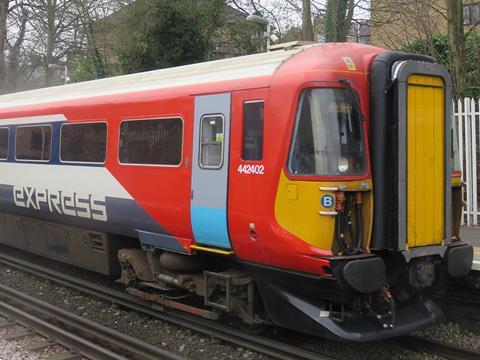 UK: South Western Railway has awarded Kiepe Electric UK a contract to undertake a £45m refurbishment of 18 Class 442 electric multiple-units for use on fast London Waterloo – Portsmouth services from December 2018.
Work to be undertaken at Eastleigh to increase the reliability and efficiency of the units will include replacing the life-expired DC traction equipment with an AC package incorporating IGBT technology from Kiepe Electric Düsseldorf. New brake controls from Knorr-Bremse Rail Vehicle Systems will permit regenerative braking, improving the units' environmental performance and lowering operating costs.
New seats and Axminster carpets will be installed, along with real-time passenger information, LED lighting and passenger wi-fi. There will be at-seat power sockets in first and standard class, and table-top inductive charging facilities in first. There will be spaces for passengers with reduced mobility, and accessible toilets.