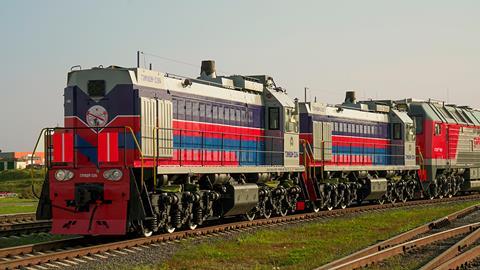 MONGOLIA: Ulaanbaatar Railway took delivery of two more TEM18DM diesel shunting locomotives from Transmashholding subsidiary Bryansk Engineering Plant on October 22.
Under a contract signed in 2019, Bryansk is due to supply 10 TEM18DMs and 14 2TE25KM two-section diesel locomotives for main line freight services. All are due to be delivered by mid-2021. The national railway already has 15 TEM18DMs delivered in 2011-19 and 15 2TE25KMs supplied in 2017-20.
Owned jointly by the governments of Mongolia and Russia, with the Russian stake managed by RZD, the 1 520 mm gauge Ulaanbaatar Railway reported a total freight volume of 27 million tonnes in 2019, a 4% increase on the previous year.