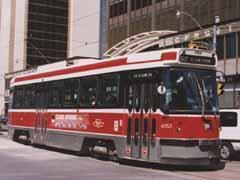 CANADA: Plans to replace Toronto's tram fleet were thrown into disarray on July 18 when Toronto Transit Commission unexpectedly rejected both of the bids it had received on June 30. TTC had issued a Request for Proposals to supply 204 new 100% low -floor vehicles worth around C$1·25bn to replace its CLRVs from 2012, with options for up to 364 extra vehicles for its ambitious Transit City light rail expansion programme.
Bombardier had been tipped as the likely winner, having bid a variant of its Flexity design now operating in several European cities. The only other bid came from UK-based Tram Power Ltd, which has so far only built a single lightweight prototype which was badly damaged by fire last year. Siemens had been expected to submit a proposal based on its Combino Plus design, but in the end decided not to bid.
According to TTC, the Tram Power bid was commercially non-compliant, and Bombardier's was ruled out on technical grounds. Chairman Adam Giambrone said the Flexity would not have been able to negotiate the city's 11 m radius curves without the risk of derailing. Bombardier reportedly denied suggestions that it had based its bid on European performance standards.
TTC says it will contact 'known and proven streetcar manufacturers, to identify and discuss the issues that led the companies to a decision either not to bid, or to submit a bid that is not compliant'. Its engineers believe that existing designs could be adapted to operate in Tor­onto, albeit with major modifi­cations. Despite the setback, TTC is confident that it will be able to find a supplier in time to keep the programme on schedule.