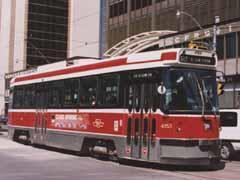 ON JUNE 22 Toronto Transit Commission voted to buy a new fleet of up to 242 low-floor trams, as part of major upgrading of the city's ageing tram network.
Commissioner Jope Milhevc said the project would give the city 'a first-class streetcar system'. TTC wants to see the first cars in service by 2009, and will look for an existing design that can be adapted. Deputy General Manager Bob Boutilier said staff had already looked at several types, and favoured the low-floor Skoda cars running in Portland and Tacoma.
Meanwhile, TTC has approved a programme to refurbish 100 of the 196 existing CLRVs dating from 1977-81. Fitting new propulsion systems and air-conditioning at a cost of C$1·3m per car will extend their service life for up to 15 years. Toronto is looking at building several new light rail routes by 2026 to serve new suburban and waterfront developments and improve interchange with the subway network.
In mid-June the federal government agreed to give Toronto C$407m in fuel tax revenue to be used for transport projects. TTC would like to build the second phase of the Sheppard subway to Scarborough Town Centre but expects to give precedence to a C$1·5bn extension of the Spadina subway from Downsview to York University in the northwest of the city.
An environmental assessment study has recently selected a final route for this extension, which would have three new stations. A final report, with more detailed design of the station and public comments, is due to be presented to the commission in November.