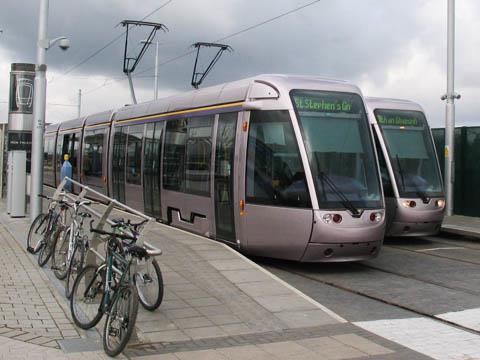 THE FIRST production tram tug to use WheelMotor traction motors has been delivered to Dublin's Red Cow LUAS depot, where it will be used to position Alstom Citadis trams over a Sculfort wheel lathe.
The Railcat1 design was developed by Stored Energy Technology following an enquiry from Alstom, which needed a tug to move London Underground Northern line trains within Golders Green depot, where pre-delivery testing of the LUAS vehicle was undertaken.
The 6·3 tonne unit is driven by four 5KW WheelMotors and powered by a 72V battery, which requires no maintenance other than charging through the on-board battery charger. The synchronous motors form part of the wheel, and are used for regenerative braking. WheelMotors were developed at SET's purpose-built factory in Derby, along with the electronics to start the motors via a sensorless rotor position detection system.
The tug is operated from a radio remote control unit, with the speed controlled by varying power frequency to the synchronous WheelMotors, removing the need for gearboxes, couplings or drive shafts.
In addition to a parking brake, the tug is equipped with a set of electromagnetic track brakes for emergency use. Side pods provide access to the emergency stop buttons from either side of the tug, even when it is over a wheel lathe pit, and the remote control handset can be used to activate the track brakes.
Stored Energy Technology has longer-term plans to develop a passenger-carrying light rail vehicle powered by WheelMotors.
Stored Energy Technology, UK
Reader Enquiry Number: 144