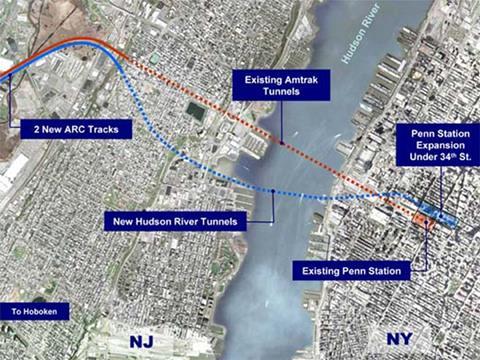 USA: New Jersey Governor Chris Christie announced on October 27 that he would not reconsider his decision to scrap 'Access to the Region's Core', a commuter rail expansion plan that included a new trans-Hudson tunnel which would double capacity between northern New Jersey and Midtown Manhattan.

Christie originally cancelled the project on October 7 because of possible cost over-runs, despite initially supporting the plan. But a day later he agreed to postpone his decision for two weeks after a personal plea from US Secretary of Transportation Ray LaHood.

Christie claimed that the price of the $8·7bn scheme could rise by up to $5bn. Noting that any over-runs would be New Jersey's responsibility, Christie said that the state could not afford more than its $2·7bn share after years of 'irresponsible' borrowing for transport. He also said that none of the options presented to him by LaHood and Deputy Transportation Secretary John D Porcari — $378m in additional federal funding, breaking the work into multiple phases or reducing the scope of the project — would change his estimate of the real cost. Christie also contended that, using FTA figures, the chances were high that the final cost would exceed the budget by $3·5bn to $5bn.

The day after his news conference, Christie said he would try to divert the state's share of the ARC funding to road projects.