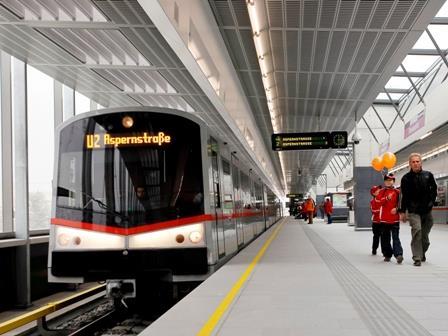 AUSTRIA: A 10-year metro and tram investment package for Wien was unveiled on June 27 by the city's Transport Councillor Maria Vassilakou and Vice-Mayor Renate Brauner, Executive Councillor for Finance, Economic Affairs & Public Utilities. With the city's population forecast to reach 2 million inhabitants by 2030, the city council has made 'a clear commitment' to maintain and expand the public transport network.
The construction of two U-Bahn extensions is expected to get underway in 2018 for opening in 2023. Line U2 is to be split into two sections, with one becoming Line U5 to serve the northwest of the city.
U2 trains from Seestadt and Aspern in the east will be diverted at Rathaus and continue south to an interchange with the S-Bahn network at Matzleinsdorfer Platz. This extension will have three intermediate stations at Neubaugasse, providing interchange to Line U3, Pilgramgasse, on Line U4, and at Bacherplatz.
The inner-city section of U2 from Karlsplatz to Rathaus will become the first part of Line U5, which will initially continue to Frankhplatz, serving the university campus, and the old General Hospital (Altes AKH) in Spitalgasse.
The city council has started negotiation with the federal government for a further extension of Line U5, running north to a new tram interchange hub at Arne Carlsson Park on Währinger Straße, where it would connect with routes 5, 33, 37, 38, 40, 41 and 42. The metro would then turn west to meet Line U6 at Michelbeuern-AKH and continue to Elterleinplatz in the Hernals district. This scheme would also see U2 extended south from Matzleinsdorfer Platz to Gußriegelstraße and Wienerbergstraße. Here it would meet an east-west tram route replacing the current bus route 15A.
'Creating an X from lines U2 and U5 will help to relieve busy lines such as U6 and tram route 43, and reduce the need for people to change trains', said Brauner. 'For many years, the people of Wien have been waiting for the U5. Now the lines will be laid.'
Construction of lines U2 and U5 will go hand-in-hand with expansion of the tram network. Whereas in the past the opening of U-Bahn lines had seen the closure of tram routes, Wien now regards the two modes as complementary, recently extending tram route 26 to meet the U2 extension in Aspern. Noting that the city has the sixth largest tram network in the world, Vassilakou said 'the combination of all modes creates a customer-friendly and attractive public transport network.'
Tram route O is to be extended from Praterstern in 2018 to serve urban development around the Nordwest freight terminal, which may also be served by extensions of routes 2 and 5. The following year will see Route D extended south from Hauptbahnhof to Gudrunstraße. In the south, route 67 is to be rerouted beyond Reumannplatz to serve Monte Laa and suburbs to the south-east once Line U1 is extended along Favoritenstraße. The city is also looking at extending route 25 through Seestadt to meet Line U2 at Aspern Nord, while a new routing between Fultonstraße and Kagran would improve service in the Donaufeld district.
Meanwhile, the city is negotiating with ÖBB for improvements to the S-Bahn network, seeking higher frequencies and additional stations to give a comparable quality of service to the U-Bahn network.