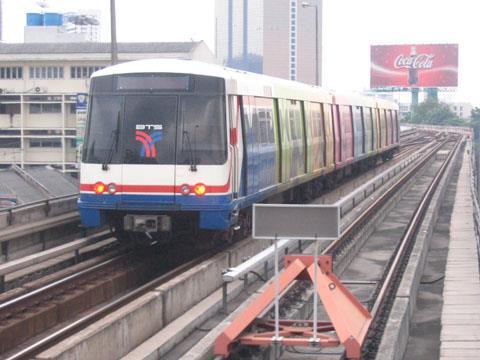 Mass Rapid Transit Authority has awarded CK Karnchane a 14bn baht contract for civil works on the 13 km elevated Bangkok Skytrain Green Line extension from Bearing to Samut Prakan which is scheduled to open in mid-2016.
China Railway Eryuan Engineering Group has begun construction of a 37·4 km light rail system in Addis Abeba. Lines will connect Defence Forces Hospital to Ayat (17·3 km), Meskel Square to Kality (16·2 km) and Lideta to Menliki Square (3·9 km). China is meeting 60% of the US$490m cost of the scheme, which is scheduled for completion within two years. Further lines are planned.
Chongqing monorail Line 3 was extended 21·8 km north to Jiangbei International Airport and south to Ertang on December 30.
A 3·6 km southern branch of the Volgograd Metrotram line from Pionerskaya to Yel'shanka was opened in December, adding three more underground stations.
The Makkah metro has been successfully converted to automatic operation under the control of Thales SelTrac CBTC; drivers have been retained on board to close the doors.
The 3 km Tram West extension of Zürich Line 4 from Escher-Wyss-Platz to Altstetten was opened on December 11.
Iraq's National Investment Commission has called tenders for the construction of an 18 km monorail with 20 stations serving the city of Karbala.
On December 30 MPK Kraków inaugurated a 1·8 km tram extension from Kobierzynska to Ruczaj, the first stage of the 6 km Line 12.
A 7·6 km southern extension of the Seoul Bundang Line from Jukjeon to Giheung opened on December 28.
In January Tel Aviv Metropolitan Mass System called tenders for the construction of tunnels for the 22 km Red and 35 km Green light rail lines.
Construction of a 10·8 km eastern extension of Chengdu metro Line 2 to Longquan East officially began on December 28.