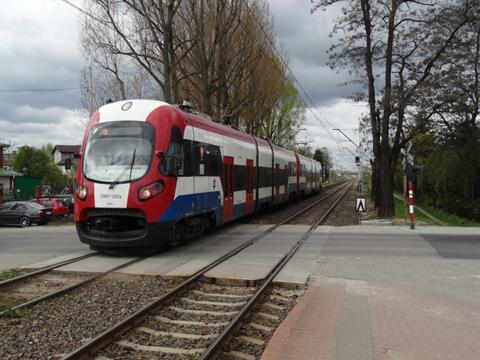 POLAND: Following a successful test in the early hours of May 1, the power supply of the WKD suburban line in Warszawa is to be permanently converted from 600 V to 3 kV DC. The switchover is due to take place overnight on May 27-28, and would align the voltage of the route with that of the national network.
It is expected that the increased voltage will reduce energy losses and enable more trains to operate. The line has until now been fed through seven substations. Two of these have been modernised to accommodate both voltages, and after conversion a third section will be fed from the PKP Energetyka substation in Warszawa Zachodnia station.
WKD's EN94 electric multiple-units are to be withdrawn following the switchover, leaving two types of rolling stock operating on the line. WKD recently purchased 12 three-car 39WE EMUs from Newag. Running as permanently coupled pairs, these are already equipped for operation with a 3 kV DC power supply. Its other fleet comprises 28 three-car EN97 EMUs delivered in 2011-12, also operating as permanently coupled pairs. These were built for use with 3 kV, but are fitted with converters to operate from both supply voltages. In addition, a four-car EN95 EMU built in 2004 was recently converted to accept 3 kV.
WKD opened in 1927 as a suburban tramway and became part of the national network in 1947. As a result of its history, it has a minimum curve radius of 22 m.