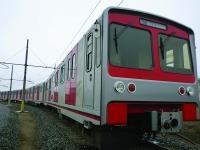 PERU: More than a quarter of a century after work began on Lima's first metro, trial services on the full 22 km Tren Eléctrico line between Villa El Salvador and Miguel Grau began on January 9. There was a limited free service for the first month, with revenue operation expected to start in February.

The project was launched in 1986, with the 9∙8 km between Villa El Salvador and Atocongo built in the 1990s. There have been intermittent periods of operation, but never a full service.

The second phase extending the line 12∙3 km to Miguel Grau has been built since March 2010 by the Tren Eléctrico Lima consortium of Graña y Montero and Norberto Odebrecht under a US$410m contract, supervised by Cesel and Pöyry.

The line is operated and maintained by the Tren Lima – Línea 1 consortium of Graña y Montero and Ferrovías under a 30-year contract awarded by investment agency Proinversión in March 2011.

A further 12·4 km extension to San Juan de Lurigancho is planned.