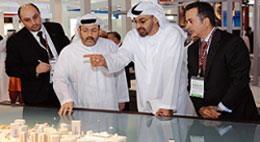 UAE: Tenders for construction of the first of 30 light rail routes are to be invited in the next two months, following the official launch of the emirate's Surface Transport Master Plan 2030 by the Crown Prince, Sheikh Mohamed bin Zayed Al Nahyan, at the end of April.
Prepared by the Emirate's Department of Transport, with assistance from Mott MacDonald and Steer Davis Gleave, the master plan aims to create a comprehensive public transport network connecting Abu Dhabi island and the international airport with the UAE's planned new capital city. The main proposals include:
590 km of regional high speed railway linking Abu Dhabi with neighbouring emirates and countries;
130 km of metro lines linking key areas in Abu Dhabi, including the airport, the new capital city, Yas Island and the central business zone;
30 tram projects in Abu Dhabi and Al Ain totalling 340 km;
highway improvements totalling 1 560 route-km;
demand management measures to support the infrastructure, including parking management and possible congestion charges.
With forecasts envisaging a five-fold increase in daily travel by 2030, the transport master plan has been designed to give Abu Dhabi 'a world-class, efficient, safe and convenient transport network'. The Crown Prince explained at the launch that this 'will meet the people's and the economy's mobility needs throughout the Emirate of Abu Dhabi until 2030'.
A consultant for the metro project will be selected in August, with the aim of having the first line ready for operation in 2015; light rail services are expected to commence in 2012.