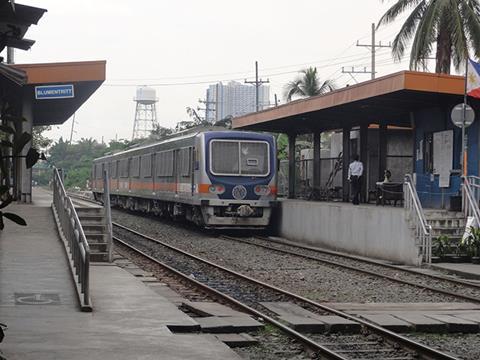 PHILIPPINES: The Department of Transport & Communications has reportedly recommended to the government's most senior planning body that the planned US$3·4bn PPP project to rebuild the main line between Manila and Legazpi be split into two phases.

According to local newspaper BusinessMirror, DOTC believes that the commuter element of the programme should be expedited ahead of the reconstruction of the badly storm damaged main line running south to Legazpi, 480 km south of the capital on the Philippines' largest island.

The commuter scheme envisages a substantial enhancement of the existing 1 067 mm gauge railway between Tutuban station in Manila and Calamba, over which a DMU shuttle service already operates over the northernmost 29 km from Alabang to Tutuban. Valued at US$2bn, the commuter route modernisation would cover double-tracking, extensive grade separation, resignalling and electrification at 1·5 kV DC.

National operator PNR operates a skeleton diesel service on a short section of the rest of the MLS corrdidor, but much of the route to Legazpi remains out of use. As well as rebuilding the line to facilitate better links between south Luzon and the capital, the government had included proposals to reopen a long-closed branch between Calamba and Batangas, a distance of 58 km, and build a 117 km extension from Legazpi to Matnog at the south end of the route. In total, the PPP is intended to cover 653 route-km of rehabilitation, reconstruction and new build alignment.

The government had hoped to complete the first phase of tendering for the programme by the end of May, but this now seems likely to be delayed as the country faces an upcoming general election. DOTC is also reported to be investigating the possible adoption of standard gauge to replace the existing 1 067 mm gauge alignment, which would allow potential operation at higher speeds but also have significant implications in terms of land acquisition and the modification of structures.