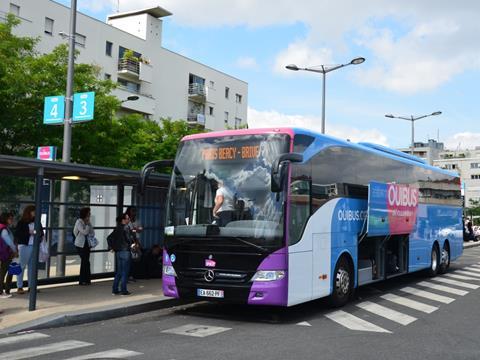 FRANCE: SNCF is to sell its loss-making Ouibus long-distance coach operations to the digital ride-sharing specialist BlaBlaCar under a multimodal development partnership announced on November 12.
After a decade of head-to-head competition, the national railway has entered exclusive negotiations with the 'leading French start-up in the mobility sector'. While the final shape of the deal has yet to be agreed, SNCF expects to take an equity stake in BlaBlaCar in exchange for Ouibus. BlaBlaCar says it is raising €101m for expansion, from a variety of investors including SNCF.
According to SNCF President Guillaume Pepy, 'we have to do more than just train' in order to attract more business to rail. 'Tomorrow, we will be able to offer our customers the possibility of going from door-to-door by combining all modes of sustainable transport, using rail as the backbone. This joint project aims to reduce our customers' need to use private cars.'
By the end of this year, SNCF expects to include ride-sharing on its OUI.sncf online booking platform, offering rail, bus and car travel to suit different price brackets. The railway says the augmented offer is a response to a strongly-expressed demand from travellers for a 'comprehensive vision of mobility offers'.From the summer of 2019, OUI.sncf will be able to offer intermodal bookings combining train and bus; the combination of train and ride-sharing would follow.
As well as BlaBlaCar, SNCF says it has an 'ambition to establish strategic partnerships with other mobility stakeholders'. SNCF e-voyageurs is developing a 'personal mobility assistant', which is expected to be available by the spring of 2019.
BlaBlaCar co-founder and CEO Nicolas Brusson said buying Ouibus would 'support our ambition to develop a comprehensive mobility service including car and coach on a European scale'. Ouibus operates coach services connecting 300 destinations across Europe, and has carried more than 12 million passengers over the past three years. Since 2006 BlaBlaCar has attracted 65 million users in 22 countries, with usage reportedly growing by 40% per year, although it has yet to declare a profit.