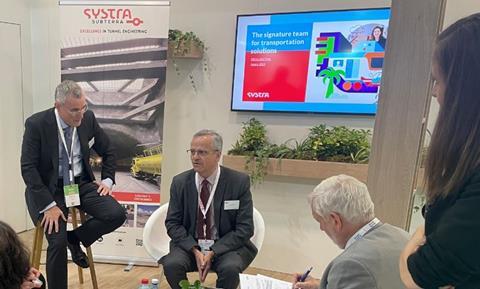 FRANCE: Paris-based transport engineering consultancy Systra has announced its intention to bring in a strategic investor to fund further expansion of its activities over the next five years.
Chief Executive Officer Pierre Verzat told Railway Gazette International that Systra had more than trebled its turnover from around €300m/year in 2011, through a 50:50 mix of acquisitions and organic growth. This represented a cumulative growth rate of almost 10% per annum. However, the market is continuing to expand at between 5% and 6%, and the group expects to invest between €400m and €500m to support further acquisitions.
Reporting that Systra had recorded its highest ever order intake at €1·06bn in 2022, Vierzat said the aim is to reach €1·5bn in five years.
The business was originally established through the merger of the consultancy arms of French national railway SNCF and Paris transport operator RATP, who remain the sole shareholders at present and have funded the expansion to date. As the group is operating fully autonomously, the owners have agreed to bring in a 'financial' shareholder to fund the next round of growth, although they would continue to hold a majority stake in the business.
Systra is working to strengthen its capabilities in specific sectors and regions. It has acquired two tunnel engineering companies this year, following the takeover of Italian firm SWS Engineering in 2021.
Australian multi-disciplinary tunnelling and infrastructure consultancy Bamser is also active in New Zealand, while the acquisition of Spanish firm Subterra announced on June 6 will add around 100 staff, including offices in Peru, Chile and Colombia. Subterra will also form a key part of the group's new Systra Ibérica subsidiary serving the Spanish and Portuguese markets.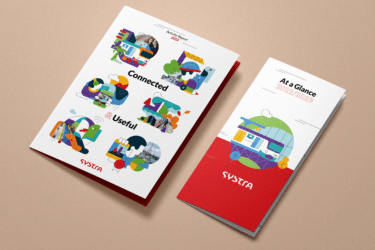 A people business
Chief Operating Officer Jean-Charles Vollery added that the group is 'focused on the future', building technical excellence in the transport engineering sector but not looking for diversification into other markets. Despite its original roots as a vehicle to export French expertise and technology, Systra is no longer a French company, he insisted, but a 'truly international' group with 76% of its turnover outside France, and a track record of work in more than 150 countries.
Since 2019 Systra has operated through 12 'home countries' where it maintains a substantial presence, assisted by smaller offices elsewhere. Vollery explained that these home countries each have a full technical capability as well as local know-how, but also work together as necessary to provide the expertise needed to support specific projects. His role as COO is to develop the 'Systra family', maintaining connections between all parts of the group, and ensuring 'a culture of co-operation' despite the rapid growth of the business.
The current expansion plans envisage the addition of around 1 500 staff on top of the current 9 000 employees.
Asked about the ongoing skills shortage in the rail sector, Vollery emphasised that 'we are a people business', and 'fuelling the machine is key'. He explained that Systra is continuing to invest in recruitment and training, and would be starting its own graduate training programme this year; this could include a range of six to 12-month placements across different aspects of the business.
Vollery added that he is keen to ensure that staff have the opportunity to become involved in a variety of projects to help develop their expertise, and to transfer between countries if they wished. 'It's all about building connected teams and widening their experience', he concluded.
Systra's 12 'home countries'
Australia
Brazil
Canada
Egypt
France
India
Italy
Nordic region
Saudi Arabia
Southeast Asia
UK
USA