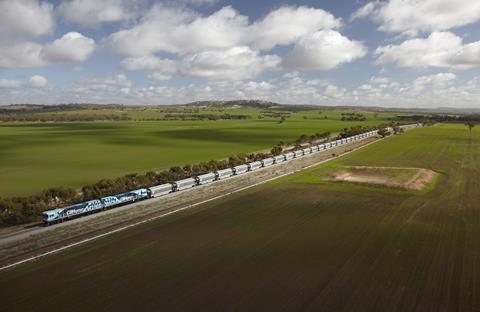 AUSTRALIA: Western Australian grain co-operative CBH Group announced an agreement to buy 17 Wabtec 1 067 mm gauge diesel locomotives on June 29, and the following day placed an order for CRRC Meishan to supply 200 standard gauge and 450 narrow gauge hopper wagons.
The orders form part of CBH Group's 'Path to 2033' growth strategy, which is intended to increase its export capacity to 3 million tonnes per annum by 2033. The expansion of CBH's rolling stock fleet comes on the back of an investment programme to get more agricultural freight moving by rail, which was launched in mid-2020 and is being led by the Western Australia state government.
CBH launched a procurement process in the second half of 2022 for the acquisition of more locomotives and grain wagons to augment its existing fleet of 25 locomotives and 572 wagons, operating on both 1 435 mm gauge and 1 067 mm gauge routes. The co-operative ordered seven standard gauge diesel locomotives from Progress Rail in December 2022, and these are expected to enter service by November 2024.
The 17 twin-cab diesel-electric CM20ACi locomotives from Wabtec are due to be delivered in two batches during the first half of 2026, and will take CBH's narrow-gauge locomotive fleet to 37.
'Our rail fleet is a key asset for the co-operative and expanding our existing train sets is a strategic priority that is critical for us to achieve CBH's Path to 2033 strategy', explained CBH Chief Executive Officer Ben Macnamara. 'By investing in our supply chain network, we are ensuring that we can deliver tonnes to customers when needed and therefore return sustained value to Western Australian growers.'
Wabtec's Senior Regional Vice-President for southeast Asia, Australia & New Zealand, Wendy McMillan, said the company was looking forward to supporting CBH's services for the Western Australia agriculture industry. 'These locomotives will enable CBH to increase grain shipments and drive CO2 emission reductions by moving more grain via rail', she added.