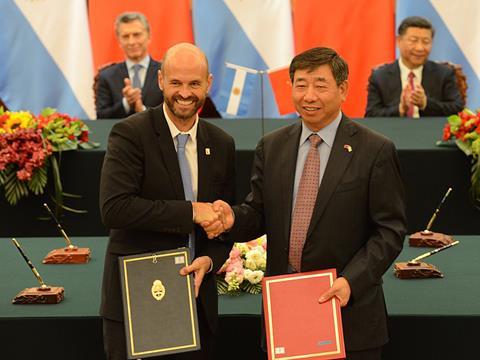 ARGENTINA: During the course of an official visit by President Mauricio Macri to Beijing, on May 17 the Ministry of Transport signed an agreement for China Railway Construction Corp to undertake a comprehensive upgrade of the San Martín network, costing US$2∙4bn and due to take 39 months to complete.
Combining infrastructure upgrades with new rolling stock, the programme aims to increase annual freight traffic from the present 2∙3 million tonnes to 13 million tonnes in 2024. Connecting the western province of Mendoza with Buenos Aires, the 1 676 mm gauge San Martín network carries mineral and agricultural traffic.
Of the 1 626 km of track to be renewed, 726 km will be tackled by what the ministry says will be first deployment of high-output plant in Argentina, tripling the amount of track laid in day. A total of 2∙8 million concrete sleepers are to be sourced domestically, 'reactivating under-utilised plants', while 7∙7 million tonnes of crushed rock ballast are to be sourced from six quarries along the San Martín network.
The programme also includes upgrading 120 bridges, signalling over 1 600 km and 400 level crossings. According to the ministry, 26 000 jobs will be created in Argentina with 72% of goods and services to be supplied domestically. The programme is being financed by Eximbank of China, at a preferential interest rate of 3% per annum for 20 years with a five-year grace period.
Highlighting President Macri's commitment to the sector, Transport Minister Guillermo Dietrich said 'we are working hard to revive the freight network right across the country over the next few years.'